Breeding & pedigree information
This beautiful young stallion of Veiga (MAC) descent is an Approved Breeding Stallion and has multiple wins in conformation classes and Dressage.
Complete information about his sire, Ofensor (MV), and dam, Miga (MAC), can be obtained at the pedigree´s links below. Astyages Interagro is highly recommended as a top stallion for any Lusitano breeding operation. He has a rare and interesting pedigree, combining his sire's unique qualities with traditional Veiga-family genealogies from the Coimbras (MAC), Alcobia (AA) and Maltez (FRM). Astyages Interagro is a very typical Lusitano with morphologic and functional qualities that recommend him for reproduction, besides his superior dressage potential mentioned above.
Interagro Dam's progeny
1999 - Turandot Interagro by Legendário do Mirante
2000 - Ulfila Interagro by Visqueiro (CI)
2002 - Vinífera Interagro by Profano Interagro
2002 - Xantal Interagro by Rocinante Interagro
2003 - Zacynthus Interagro by Ofensor (MV)
2005 - Babucha Interagro by Noblíssimo Interagro
Trainer's Opinion by Heather Bender
Astyages Interagro is the whole package for a future successful Grand Prix horse. He is one of the jewels of 2011 Lusitano Collection. He has a wonderful, engaging hind leg that can easily demonstrate clear carrying power along with a superb ability to push, demonstrating extensions. Astyages Interagro shows correct basics and a gift for piaffe, passage and pirouettes. He will need a sensitive, advanced rider who can continue developing his talent and his mind. He clearly fills the requirements for competitive gaits, trainability and unforgettable presence, meeting the needs of the serious FEI. With a good start in the competition ring, Astyages Interagro has already won numerous prizes for his dressage qualities and for stallion conformation. He will be the right horse for the owner who is looking for a breeding stallion and/or competition horse. Astyages Interagro is ideal for the advanced rider who loves to ride on the edge of brilliance and fire! Astyages Interagro is competing at dressage (FEI 4 years old). Titles: 2nd place 2nd Level 4th phase CAI (International Dressage Competition) at CHSA. 4th place Silver Medal 1st Lusitano Horse Fair (Águas de Lindóia/S.Paulo), Sept.2009. 4th place Gold Medal 2nd Lusitano Horse Fair (Águas de Lindóia/S.Paulo), Sept.2010.
Click on the links at the pedigree below to know more about the ancestors
Astyages Interagro

Ofensor (MV)
Danúbio III (MV)
Zimbro II (MV)
Oferta (MV)
Tricana II (MV)
Lidador II (MV)
Medronha III (MV)
Miga (MAC)
Hábil (MV)
Dardo II (MV)
Canela (MV)
Castiça (MAC)
Quimono (AA)
Traquina (MAC)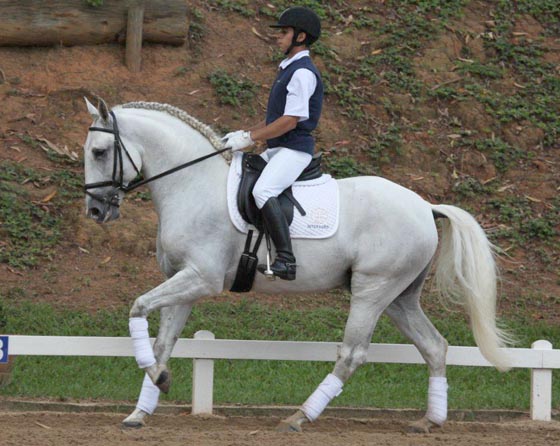 Photo: Tupa
Click on the tumbnails to enlarge the pictures
Approved as Stallion by the ABPSL