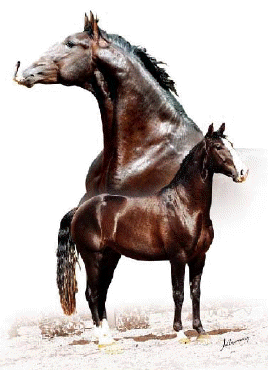 About Profano Interagro, see the Stallion Gallery at the Interagro´s Website.
The dam Fidalga (CF) by Dragão (SA) and Xinita (CF) is a great-grand-daughter of Guerrita (MV), the mother of the famous Novilheiro (MV). Xagatai has a very interesting pedigree with in-breeding on Guerrita (MV), through the grandparents Legendário do Mirante and Fidalga (CF). The latter, had at Interagro an offspring of four: Ubu [by Girofle (APP)], Zambia [by Nicola (MAC)], Xagatai and Vocabulário Interagro [by Legendário do Mirante], the latter exported to the USA.
Trainer's opinion: WOW! Is the best way to describe this horse! He is amazing, has gaits, mind, substance, and the "It factor!" His beauty and elegance will turn heads anywhere! He knows he is very special. Xagatai Interagro has the arrogance and confidence which makes him very brave and willing to try new challenges. He seems to know he is being watched and turns on his stuff like a true show horse. Only three years old, he has matured way beyond his age; he marches into a new training situation and act as if he had been there 1000 times before. He is very light on his feet and shows super balance. Xagatai is a complete pleasure to ride. He is very attentive to his rider and stays light to the leg and hand. He finds bending and balance extremely easy. It is hard to detect if he has a stiff side hallow side because he is so naturally elastic. He exemplifies grace and athletic ability. He loves attention and enjoys learning. What a super horse for a rider that wants to go on in competition! He is a forward thinking horse, very uncomplicated, loves the hack, great on the ground. Xagatai Interagro is very suitable for rider looking for a competition horse.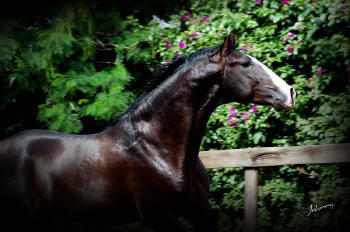 Photo by Johnny