Sire: Perdigueiro (MAC)
Dam: Rapsódia JNU is a young brood mare from the Núncio (JN) brand. Coudelaria Núncio was created by the most famous Portuguese bullfighter João Núncio – the Caliph of Alcácer. Interagro is the only breeder who can offer this rare bloodline.
Interagro Dam's progeny
Zefir Interagro by Rocinante Interagro on 06-oct-2003
Batuque Interagro by Perdigueiro (MAC) on 06-sep-2005
Craveiro Interagro by Perdigueiro (MAC) on 07-aug-2006
Desafinada Interagro by Perdigueiro (MAC) on 14-aug-2007
Enfermeira Interagro by Perdigueiro (MAC) on19-jul-2008
About Acorde:
Acorde Interagro is an attractive rose grey stallion with a great eye and a well-proportioned muscular build. Eager to please, he is focused in his work. This self assured stallion appears more mature than his years by displaying great confidence and pride. At this young age, he demonstrates impressive gaits and a pleasing attitude, traits necessary for a top competitor and a quality breeding stallion. The son of Perdigueiro, he resembles his sire's bloodline by being sensible and intelligent, much like a wise "old soul." Acorde Interagro's reasonable temperament, desirable confidence and ride ability make him an excellent prospect for many different level riders.
Results P.I.A. – Dressage Test at Interagro
Date: November 1st, 2008 - Place: Interagro Dressage Open Arena
Judge: Mrs. Maria Elisa Simões de Moraes
Training Level Test 1 – 7th Place ridden by Miss Louise Westroom (62,61%)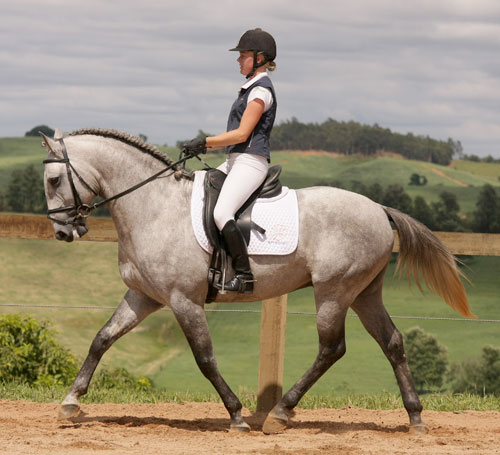 Photo: Tupa
Click on the tumbnails to enlarge the pictures
Approved as Stallion by the ABPSL