Sire: Perdigueiro (MAC)
Dam: Kidnapped (SA) is one of the most important females among the Interagro Brood Mares. She is a daughter of Rapinada (SA) the mother of Zamorim (SA); the latter, with Yacht (SA), and Urco (SA) form the extraordinary triad of famous Andrade stallions sired by Martini (SA). Kidnapped's father is Trovador (MV), the stallion the Veigas ceded to the Andrades in reciprocity for Firme (SA) performing the same service there as Firme did in the Veigas. Kidnapped (SA) is a top-producer mare; her offspring of 12 superior individuals, includes two Interagro Stallions: Olorin Interagro [with Xique Xique (CI)] and Querer Interagro [with Yacht (SA)].
Interagro Dam's progeny
Olorin Interagro by Xique-Xique (CI) on 17-sep-1994
Progresso Interagro by Yacht (SA) on 07-jan-1996
Querer Interagro by Yacht (SA) on 09-dec-1996
Roberval Interagro by Noblíssimo Interagro on 06-nov-1997
Solaia Interagro by Faraó (JHC) on 24-dec-1998
Ursus Interagro by Legendário do Mirante on 22-jul-2000
Vaidosa Interagro by Quilate Interagro on 15-aug-2001 (Exported to Ecuador in 2004)
Xenofonte Interagro by Perdigueiro (MAC) on 11-aug-2002 (Sold at The 2006 Lusitano Collection)
Zidna Interagro by Yacht (SA) on 03-aug-2003
Barcida Interagro by Quixote Interagro on 05-jan-2006
Conselheiro Interagro by Perdigueiro (MAC) on 15-dec-2006
Dagmar Interagro by Ofensor (MV) on 19-dec-2007
About Albatroz:
Albatroz Interagro is a picture-perfect white dream horse with a handsome face and beautiful mane and tail. His high set neck and elegant legs only add to his allure. Currently, a photo of Albatroz Interagro is in contention to be used on a cover of a new book, The Lusitano Horse Basic Lineages, by Paulo Gavião Gonzaga, due to be released soon. Throughout his training, this young stallion has tried hard to please his rider. It is evident that he truly likes people and enjoys being with them. Even though Albatroz's elegant conformation makes him appear far taller than his true measurements, he is growing every month and getting noticeably stronger. Albatroz Interagro would be well suited for many different level riders because of his willing nature, quality gaits, rare beauty and ever increasing size.
This young stallion can be of great interest for any Lusitano breeder in the world.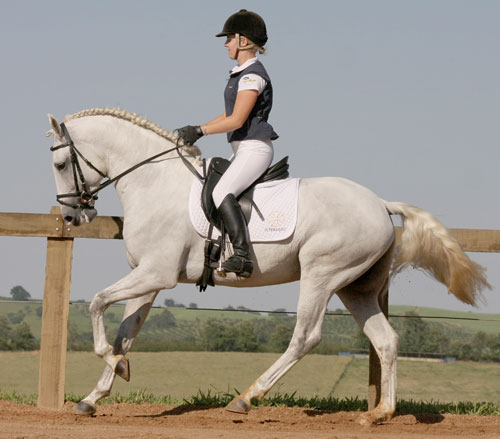 Photo: Tupa
Click on the tumbnails to enlarge the pictures
Approved as Stallion by the ABPSL