Sire: Tufão Interagro
Dam: Olaia (MBR), from Eng. Braga [father of the Lusitano Collection partner Manuel Braga (SS)], is a palomino mare by the famous Novilheiro (MV) and Unida (OI), from Oliveira Irmãos, a Portuguese breeder known for the excellent buckskin mares and bullfighting bulls he breeds.
Interagro Dam's progeny
Tobold Interagro by Forcado (SS) on 21-feb-2000
Urussui Interagro by Nicola (MAC) on 08-fev-2001 (Exported to USA in 2004)
Veredicto Interagro by Faraó (JHC) on 10-jan-2000 (Exported to USA in 2005)
Xolaio Interagro by Nicola (MAC) on 18-dec-2002 (Sold at The 2006 Lusitano Collection)
Ziegfield Interagro by Faraó (JHC) on 01-dec-2003
Bonança Interagro by Tufão Interagro on 08-nov-2005
Colombina Interagro by Tufão Interagro on 31-oct-2006
About Alfacinha:
Alfacinha Interagro, a gorgeous, golden palomino stallion, has the gaits, balance and temperament to be a serious competition horse; yet, he is calm enough for riders of lower levels, as well. Alfacinha has a free elastic shoulder and a great sense of natural balance. He is easily ridden into the bridle and very quiet in the contact. If a rider is more skilled, he will be surprised at how much this young stallion has to offer. A less experienced rider will enjoy how easy and uncomplicated it is to push Alfacinha into a steady tempo and correct rhythm. Alfacinha has an expressive personality and, in a good way, will let you know what he is thinking. He enjoys his work, and is easily managed and well mannered out on the hack. Alfacinha Interagro is the first generation stallion offered from his sire,Tufão Interagro, who is standing as number one for 4th level in the Brazilian National Rankings as we go to print.
Results P.I.A. – Dressage Test at Interagro
Date: November 1st, 2008 - Place: Interagro Dressage Open Arena
Judge: Mrs. Maria Elisa Simões de Moraes
Training Level Test 1 – 6th Place ridden by Miss Monique Ferreira (65,22%)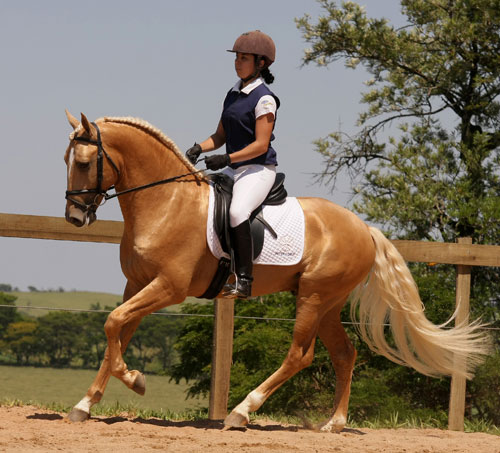 Photo: Tupa
Click on the tumbnails to enlarge the pictures
Approved as Stallion by the ABPSL