Sire: Ofensor (MV)
Dam: Radiosa (MAC) is by Larápio (MAC) and Fidalga (MAC) the latter being the dam of Perdigueiro (MAC). Radiosa´s offpring of excellent quality comproves her outstanding breeding qualities and recommended the obvious mating with Ofensor (MV).
Interagro Dam's progeny
Ximena Interagro by Nicola (MAC) on 23-jul-2002
Zicota Interagro by Ofensor (MV) on 22-jul-2003
Barbarella Interagro by Quixote Interagro on 28-jul-2005
Debutante Interagro by Quixote Interagro on 07-dec-2007
About Amintas:
Amintas Interagro is a WOW! This beautifully proportioned, balanced and athletic horse is already showing suspension and the ability to extend. Very naturally engaged, he is nicely uncomplicated for such a talented horse. Amintas has a free shoulder and elastic movement which adds a wonderful quality to his gaits. Amintas already demonstrates his trainability by showing his ability to do top "test quality'' work for the competitive ring. Amintas is the ultimate competition horse for the serious competitor as well as the perfect stallion with a prestigious pedigree for your breeding program. Recipient of the Gold Medal in the one-year-old conformation class at the 2006 International Lusitano Show, Amintas also topped approximately 40 other competitors to achieve reserve in the two-year-old conformation class in 2007 (Another 2009 Lusitano Collection horse, Appiano Interagro, won it.). Interagro and its riders are very proud to bring this talented stallion to this 2009 Collection and will be excited to follow his progress in his new home. Amintas Interagro is another true example of the amazing quality that his sire Ofensor (MV) produces.
2nd Class – 2 year old PSL Colts – Conformation Class – 2nd Place with Gold Medal at the XXVI International Lusitano Show (May, 2007) São Paulo, Brazil

1st Class – 1 year old PSL Colts - Conformation Class - 2nd Place with Gold Medal at the XXV International Lusitano Show (May, 2006) São Paulo, Brazil
Results P.I.A. – Dressage Test at Interagro
Date: November 1st, 2008 - Place: Interagro Dressage Open Arena
Judge: Mrs. Maria Elisa Simões de Moraes
Training Level Test 1 – 4th. Place ridden by Mr. Edmar M. Brito (65,65%)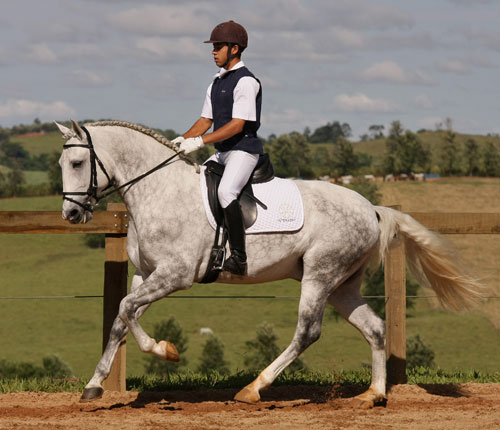 Photo: Tupa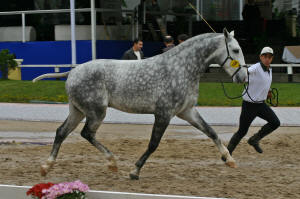 XXVI International Lusitano Show (May, 2007) São Paulo, Brazil
Photo: Ney Messi (ABPSL)
Click on the tumbnails to enlarge the pictures
Approved as Stallion by the ABPSL