Pedigree information
Antiochus Interagro is one of four full-brothers of 100% Veiga blood selected and tested as stallion at Interagro. His father Ofensor (MV) is one the most prized Lusitanos in history. He had a very successful show career in Portugal including numerous Get of Sire class wins and his progeny have won even more than Ofensor himself both in Portugal and Brazil. Ofensor (MV), so far, has an Interagro progeny of 170 extraordinary descendants not counting those he left in Portugal. Both in Brazil (S. Paulo) and in Portugal (Lisbon), Ofensor (MV) won the Male Progeny Championship. It is publicly known that Interagro was the only breeder to whom Manuel Veiga sold six of his mares, Ópera (MV) being one of these. In the quest for a worthy successor of Ofensor (MV), Interagro has tested many young stallions, including the sons of these six Veiga Mares. From the Ofensor (MV) x Ópera (MV) breeding, we will keep one top stallion – presently it is Xelim Interagro who is siring a fantastic offspring; two promising colts will be tested in the future.
Interagro Dam's Progeny
1999 – Tartesso Interagro by Emir II (MV)
2000 – Universus Interagro by Visqueiro (CI)
2002 – Vulgata Interagro by Néctar (MAC)
2002 – Xelim Interagro by Ofensor (MV)
2005 – Barítono Interagro by Perdigueiro (MAC)
2006 – Cinderella Interagro by Quínio Interagro
2007 – Defensor Interagro by Ofensor (MV)
2008 – Executor Interagro by Ofensor (MV)
2009 – Fay Interagro by Ofensor (MV)
Trainer's Opinion by Heather Bender
This Pure Veiga bred gelding truly reflects the 'royalty' in his blood. The Veiga (MV) bloodline is known to produce late bloomers and it will take extra time for Antiochus Interagro to reach his full mature size. Already he has a large, correct frame and wide chest with good height. Antiochus Interagro, with his three good gaits and confident nature, is a horse who will get noticed. His conformation and substance are enhanced by lightness, athletic ability and gaits! He is naturally supple and balanced giving his rider a feeling of sheer athletic ability. His natural instinct is to please his rider. He clearly tries to do whatever you ask. Antiochus Interagro is lovely to hack, and easily goes around the farm with even a less experienced rider. In the ring or on the trail, he has a wonderful, dependable temperament and is very confident. Antiochus Interagro is a perfect match for a rider who is looking for an elastic horse with great competition potential along with a lovely nature and confidence. Antiochus Interagro is well suited for many types of riders. His uncomplicated nature and sheer talent makes him a pleasure for a less experienced rider or a professional trainer. All of these qualities mean Antiochus is inevitably a lot of fun to ride.
Click on the links at the pedigree below to know more about the ancestors
Antiochus Interagro

Ofensor (MV)
Danúbio III (MV)
Zimbro II (MV)
Oferta (MV)
Tricana II (MV)
Lidador II (MV)
Medronha III (MV)
Ópera II (MV)
Bailador II (MV)
Universo (MV)
Irritada (MV)
Zapatera II (MV)
Nilo (MV)
Saltadora II (MV)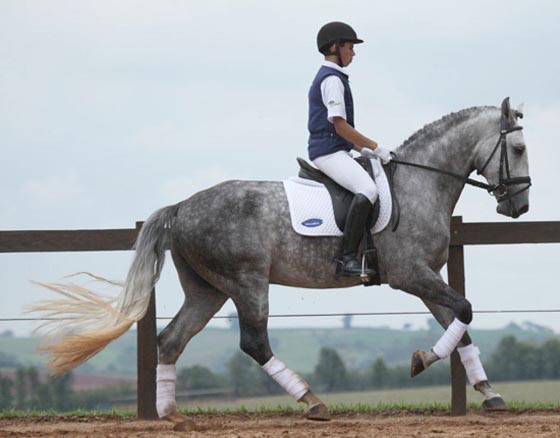 Photo: Tupa
Gelding