Sire: Nordeste (SS)
Dam: Naranja do Mirante´s father and grand-father is Zico (MMV), a grand son of famous Firme (SA), is two times over his grand-son, thus making Firme (SA)'s name appear for three times on Apache's exceptional pedigree. More genetic power is very difficult if not impossible to find.
Interagro Dam's progeny
Santeiro Interagro by Faraó (JHC) on 10-jul-1998
Talita Interagro by Emir II (MV) on 12-aug-1999
Urupê Interagro by Girofle (APP) on 22-jul-2000
Varanja Interagro by Girofle (APP) on18-aug-2001 (Sold at The 2006 Lusitano Collection)
Xistosa Interagro by Girofle (APP) on 11-aug-2002
Zampano Interagro by Nicola (MAC) on 07-dec-2003 (Sold at The 2008 Lusitano Collection)
Curupira Interagro by Nordeste (SS) on 30-sec-2006
Deletor Interagro by Ofensor (MV) on 18-aug-2007
Enfezada Interagro by Profano Interagro on 25-jul-2008
About Apache:
Apache Interagro is a very handsome black horse with a masculine look. Displaying a kind nature and winning attitude, he often greets his rider with a friendly whinny from his stall. This young stallion is naturally well-balanced and forward-moving. Light to the aids, Apache is very responsive in a good natured way; in fact, he tries so hard to please, he appears to "worry" if he feels he has done something wrong. With a high set neck and uphill build, the stallion actually seems bigger than he measures. Apache is the first generation by Nordeste (SS), who was born at Interagro and competed in FEI dressage in Portugal before Interagro imported him. Nordeste and Apache share their beautiful true-black color. Apache is one of the most popular young horses at Interagro to train because of his sweet and willing temperament. A pleasure to ride out on the hack, Apache Interagro is a horse that many people will be able to ride and enjoy!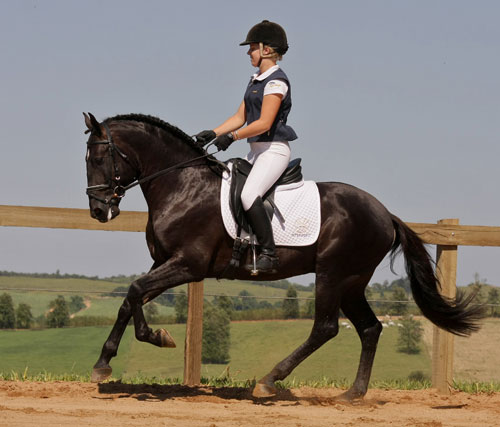 Photo: Tupa
Click on the tumbnails to enlarge the pictures
Approved as Stallion by the ABPSL