Sire: Quixote Interagro
Dam: Vilna Interagro
Bocage's dam, Vilna Interagro (Quínio Interagro x Mucuna Interagro), was bred to inherit Quina's (CI)/(SA) highly functional lines through Quínio Interagro and benefit from the athletic lineages of Mucuna Interagro, a sister of the renowned Nirvana Interagro, both sons of the Interagro founding mare, Capicua (MLC). Mucuna Interagro, an extremely important Interagro brood mare, has produced a progeny of ten exceptional sons, thus far. Among them are: Sargon Interagro, who achieved a brilliant dressage career in the U.S., Zamorim Interagro and Xorro Interagro, the latter sold in the 2008 Collection®. Bocage Interagro is the oldest of Vilna Interagro's progeny of four. The addition of Quixote Interagro's genetic power from the Firme (SA)/Nilo (MV)/Novilheiro (MV) strain completes the ideal cocktail of the best and most desirable functional lineages of the modern Lusitano. Bocage Interagro, the result of this dynamic crossing, is meeting our highest expectations, as the trainer's opinion explains.
Interagro Dam's progeny:
Cantadora Interagro by Nirvana Interagro on 23/Sep/2006
Diplomado Interagro by Perdigueiro (MAC) on 10/Sep/2007
Estradeiro Interagro by Perdigueiro (MAC) on 18/Sep/2008
Trainer's opinion:
Bocage Interagro is a versatile modern sport horse! A large four-year-old that won't reach his full size for some time, this strikingly beautiful stallion jumps with confidence, has three correct gaits and loves to hack. He is a prime example of what a talented Lusitano can achieve and will surprise many people who think the Lusitano is just a dressage horse. A noble and elegant-looking horse, Bocage covers the ground with a large, graceful stride which he's learning to keep organized with his rider's help; he also offers a monster canter. This large stallion demonstrates scope in jumping and loves to do it! He is brave and enjoys going out on a hack. A natural athlete, he offers aptitude in all disciplines; he is handsome and moves like an American hunter, could be a future medal horse, might develop into a super event horse or become an FEI® dressage horse. With help from a confident rider to continue his training program, he will easily develop his multiple talents. A beautiful stallion who turns heads wherever he goes, Bocage Interagro has the bloodlines and athletic abilities to fit into a variety of programs as he matures.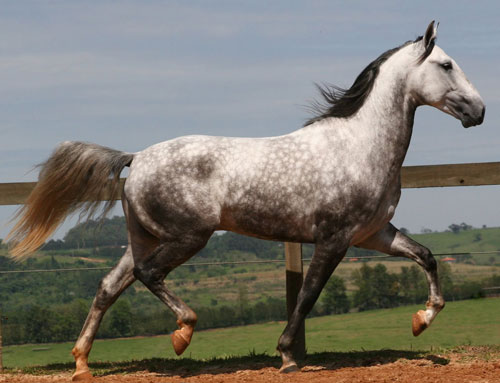 Photo: Davi Carrano



If you are having trouble seeing the video above, please update your flash player by clicking HERE.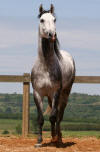 Click on the tumbnails to enlarge the pictures

Approved as Stallion by the ABPSL