Sire: Quínio Interagro
Dam: Peseta Interagro
Bojador's mother, Peseta Interagro [Tuim (CN) x Consoada (QF)], is one of the Interagro mares born from Tuim (CN), the Coudelaria Nacional (CN) official stallion ceded by the Portuguese Government to Interagro. Consoada (QF) from Fernando Palha's breeding, is a daughter of Cryptogâmico (SA) who was acquired by CN to be used in their stallion leasing program. It is important to remember that Tuim and Cryptogâmico were approved in the days when Coudelaria Nacional followed a very strict selection process in which the stallions were first submitted to hard physical tests before approving them for reproduction. The Quinas and Andrades also followed recognized rigorous methods to select their stallions. We intentionally used Quinio Interagro on Peseta Interagro because of the scrutiny involved in that breeding process in order to produce Bojador Interagro, a top athletic horse.
Interagro Dam's progeny:
Useta Interagro by Noblíssimo Interagro on 25/Jan/2001
Xiboleta Interagro by Profano Interagro on 07/Dec/2002
Zorra Interagro by Rocinante Interagro on 14/Nov/2003
Andrômeda Interagro by Quínio Interagro on 18/Dec/2004
Consoada II Interagro by Richebourg Interagro on 23/Dec/2004
Dialético Interagro by Perdigueiro (MAC) on 18/Nov/2007
Esteban Interagro by Perdigueiro (MAC) on 16/Dec/2008
Trainer's opinion:
This athletic stallion will make you smile! Mouthy as a puppy on the ground, he is primed for action under saddle. With his muscular body and elastic stride, he is comfortable to ride. He is well- balanced, forward and has three lovely gaits. When moving correctly over his back, Bojador Interagro gives his rider a light and sensitive feeling without being over-reactive. A wonderful example of his athletic father, Quínio Interagro, he is a confident, good-natured stallion. Brave out hacking, Bojador is willing to try anything. He has demonstrated potential in jumping, but also enjoys his work on dressage. Energetic and fun to ride, he is easy to control and clearly loves his job. He is well-suited for many riders; although, his energy may be intimidating for those less confident. A personable horse, Bojador Interagro has the necessary qualities for a successful competition horse.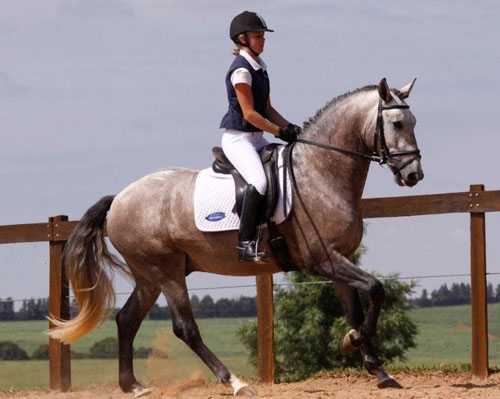 Photo: Tupa



If you are having trouble seeing the video above, please update your flash player by clicking HERE.













Click on the tumbnails to enlarge the pictures

Approved as Stallion by the ABPSL