Pedigree information
Butler Interagro was bred to be a competitive sport horse. Both his parents – see illustrated pedigree below – are from the sought after lines in the Lusitano breed. Both have distinguished themselves with offspring of top competitive quality. The sire, Noblissimo Interagro has a superb offspring which includes Sargon Interagro, winner of many National and Regional awards through FEI levels in the U.S.A. Another of Noblissimo Interagro's sons, Vade-Mecum Interagro is distinguishing himself in dressage as well. He won 1st place at PSG FEI World Challenge (63%) in October/2009, and is presently competing in 4th Level.
Interagro Dam's progeny:
1999 – Tornado Interagro by Nicola (MAC)
2000 – Ultrarico Interagro by Noblíssimo Interagro
2001 – Vicunha Interagro by Quinárius Interagro
2002 – Xinoca Interagro by Nicola (MAC)
2003 – Zorba Interagro by Profano Interagro
2004 – Ariadne Interagro by Quixote Interagro
2008 – Egregius Interagro by Quinárius Interagro
2009 – Firebird Interagro by Nirvana Interagro
2010 – Gineta Interagro by Nirvana Interagro
Trainer's Opinion by Heather Bender
Butler Interagro is a well muscled proportioned gelding with a lovely height and substance. He is still is growing in height and weight and will suit a taller rider than his 16 hands measurement reflects. He already shows balance, self-carriage, and a good sense of tempo. He has a super walk and shows the promise to have the gaits that a rider can take up through the levels in competition. Butler Interagro likes to go forward and has a powerful engine without giving the feeling of being too hot in his attitude. He learns fast and is very honest in his work. He is steady in the bridle and very concentrated. He loves to work in the ring or out on the hack. Butler likes people and enjoys being with them; whether it is under saddle or in the barn, it is all great to him! He is a horse that will be better suited for an intermediate to an advanced rider. Butler Interagro, with his good nature and happy attitude, will be sure to make you smile everyday you ride him.
Click on the links at the pedigree below to know more about the ancestors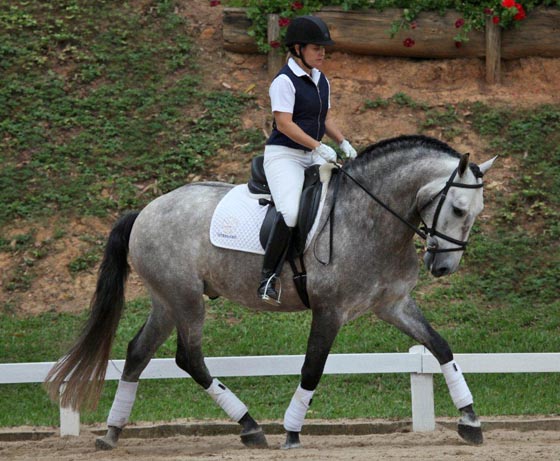 Photo: Interagro File
Gelding