Xadrez SS is a young stallion bred by the important breeder Manuel Braga (Sociedade das Silveiras Stud Farm) in Portugal.
At Rocas do Vouga Farm, Xadrez SS already produced some beautiful foals, confirming that he owns a great potential as a breeding stallion.
He is a very beautiful gray horse with admirable morphology and amazing movements.
His pedigree is really interesting with some of the most important bloodlines of the Lusitano race.
His sire Nordeste SS is son of Trinco (MMT) and Xaqueca (CI) by Quieto (CI), all of them horses with sportive abilities and exhibition winners.
Dam: Prenda (GUB) by Bailador (MV) with Lai Lai (SSC) by Novilheiro, confirming that this is a modern lineage of horses with sportive potential.
Xadrez SS has a very consistent dressage initiation, is very pleasant to ride and has a really nice temperament.
Dam's progeny: Templario(GUB) 04/21/00 with Mulato (HB), Xadrez SS (04/12/03) and Zeus SS (04/02/04) both with Nordeste SS, Afrodite (HSL) 05/07/05 and Bailarina (HSL) 04/07/06 both with Relampago (MAC).
Trainer's Opinion: This is a very serious horse under saddle, really concentrated on his training. Xadrez has a wonderful canter, and his trot is naturally balanced and rhythmic. This horse has the size, the gaits and the character to be a great sport horse on dressage rings.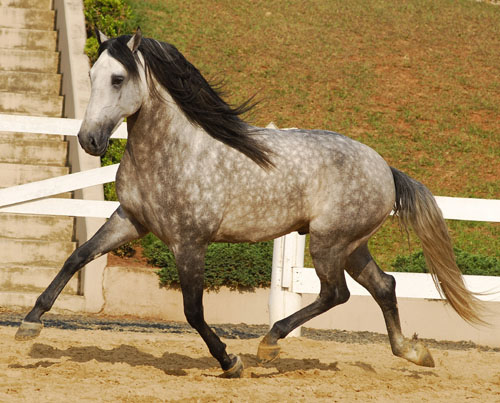 Photo: Tupa
Click on the tumbnails to enlarge the pictures