Strong, athletic young horse with a very good pedigree combining the Danúbio (MV) and Yacht (SA) heritages.
Approved as a Stallion by the ABPSL – Associação Brasileira do Puro Sangue Lusitano.
Sire: Quantum Interagro
Dam: Premissa is an important mare in the IBM. Her offspring is characterized by very functional and beautiful animals with great potential for the equestrian disciplines.
Dam's Interagro Progeny: Usuária (Legendário do Mirante, 08/12/00); Ática (Noblíssimo Interagro, 09/06/04); Xerke (08/31/02), Biriba (10/29/05) and Campeiro (10/23/06) all three with Perdigueiro (MAC).
Trainer's Opinion: Zola is a lovely horse to ride. He gives his rider a lovely feel. He likes to go forward to the bit and already finds it easy to be consistent and fairly steady in the contact. He is a very handsome package; a big mane, forelock and tail, he has a beautiful eye and face, and a nicely proportioned body. Zola is very attractive! He is a friendly horse with a sweet attitude. He shows very little stallion behavior at this time. He can get startled on the hack and try to exit quickly the other way. He is a gentle soul and does not try to be any problem. He wants to please his rider. His trainer says Zola is great fun to be around. He loves to amuse himself and any one watching with toys in his stall. Zola is one of the most naturally photogenic horses of the collection, he always looks super. Zola should be well suited for an amateur who has a good training program to continue building his confidence and future as a competitive dressage horse.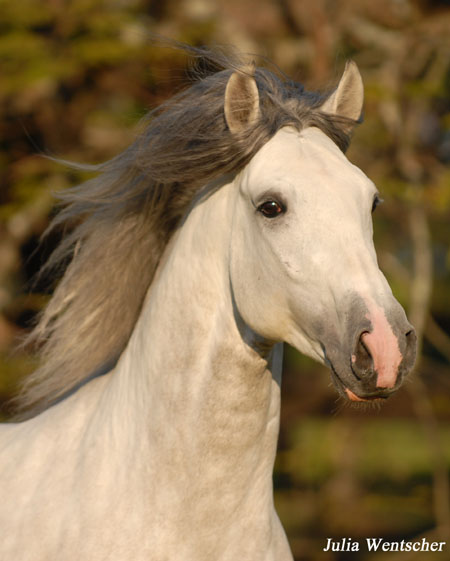 Click on the tumbnails to enlarge the pictures