Pedigree information
Like his brother, Campeiro Interagro, also offered at this Collection, Cruzeiro Interagro is a gelding. Information about his parents can be seen at the links on the pedigree below. The sire, Perdigueiro (MAC)'s progeny of 106 individuals, has consistently shown superior functional qualities and rideability, which is why this stallion has been repeatedly used in our breeding program. The dam, Quinta Interagro, by Xique-Xique (CI), has an Interagro Progeny of ten excellent, very functional individuals.
Dam: Quinta Interagro
Interagro Dam's progeny:
2000 – Usufrutuária Interagro by Legendário do Mirante
2001 – Verboso Interagro by Quilate Interagro
2002 – Xantico Interagro by Quixote Interagro
2003 – Zacharias Interagro by Perdigueiro (MAC)
2004 – Arquelau Interagro by Quínio Interagro – sold at the Interagro Auction - 2005
2005 – Balmoral Interagro by Perdigueiro (MAC)
2007 – Divulgador Interagro by Ofensor (MV)
2008 – Egéria Interagro by Ofensor (MV)
2009 – Floresta Interagro by Ofensor (MV)
Trainer's Opinion by Heather Bender
Cruzeiro Interagro is another outstanding son of Perdigueiro (MAC). Cruzeiro Interagro loves to work and already gives his rider a feeling of a mature balanced horse that finds organizing his own body quite easy. His focus on his rider is all business in the ring, demonstrating an excellent temperament along with a great intelligence and easy trainability. Cruzeiro Interagro's presence and personality will be a boon in the competition ring. He catches people's eye when he is in a group. He is clearly elegant, forward and definitely proud. He has always had confidence and could be a bit much for a timid rider. With his compact body, great balance and lots of go, Cruzeiro Interagro will be the right match for the intermediate rider. This lovely gelding effortlessly possesses that little special piece of star quality that cannot be trained; it just has to be something that the horse 'owns'. Cruzeiro Interagro already has 'it'- the winning quality is in his very presence and expression.
Click on the links at the pedigree below to know more about the ancestors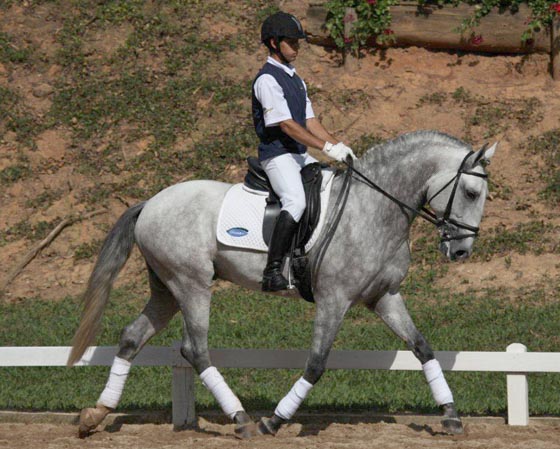 Photo: Tupa
Gelding