Breeding & pedigree information
This young stallion is another beautiful son of the recently deceased Tufão Interagro. Tufão Interagro, a gorgeous golden-buckskin stallion who was briefly shown in Florida in 2006, died in 2010. Tufão Interagro finished 1st in the Brazilian ranking for 4th level in 2008 and was the São Paulo State FEI Junior Champion in 2009. Tufão Interagro left a progeny of 71 extraordinary sons and daughters, including Alvarinho and Alfacinha both sold at the 2010 and 2009 Collections, respectively. Cupido Interagro's dam, Upiki Interagro, a gorgeous Sorraia-color mare is one of our top broodmares, having, so far, an Interagro Progeny of six males, all gorgeous horses like Alvarinho and Cupido. Cupido Interagro has a sterling pedigree containing some of the more renowned names in the Lusitano breed and can be used in any Lusitano breeding program of quality.
Interagro Dam's progeny:
2004 – Alvarinho Interagro by Tufão Interagro – sold at The 2010 Lusitano Collection
2005 – Brinco Interagro by Trinco Interagro
2007 – Delfos Interagro by Tufão Interagro
2008 – Erótico Interagro by Tufão Interagro
2009 – Fauve Interagro by Tufão Interagro
2010 – Gobi Interagro by Tufão Interagro
Trainer's Opinion by Heather Bender
A beautiful Isabel stallion, Cupido Interagro is Alvarinho Interagro's (2010 Collection) younger full brother. We love this bloodline combination and find Cupido Interagro to be a younger version of Alvarinho Interagro. We have put him on the Reserve list for the same reason we held Alvarinho Interagro back an extra year. Cupido Interagro is in that 'growth stage of development' when some people may not see his full potential. Alvarinho Interagro, who is currently being shown by Grand Prix rider Gary Lane and schooling clearly in the FEI level, is extremely special. Gary has stated that Alvarinho Interagro is one of his favorites; this is a huge compliment to Alvarinho because Gary has many super horses he rides and trains. Cupido Interagro is another horse that measures smaller than he is when you see him in real life. He is leggy, big bodied and will easily carry a bigger rider than his 16.1 ¼ hands may seem possible; and, of course, he is not done growing. This stallion has a big personality and will need an experienced rider to manage his energy, pride and attitude under saddle; at the same time, he is a sweetheart on the ground for his grooms. He is guaranteed to steal the right rider/trainer's heart away; for with the right balance of skill from his trainer, he is predictable and clearly quite talented for a future in competition dressage.
Click on the links at the pedigree below to know more about the ancestors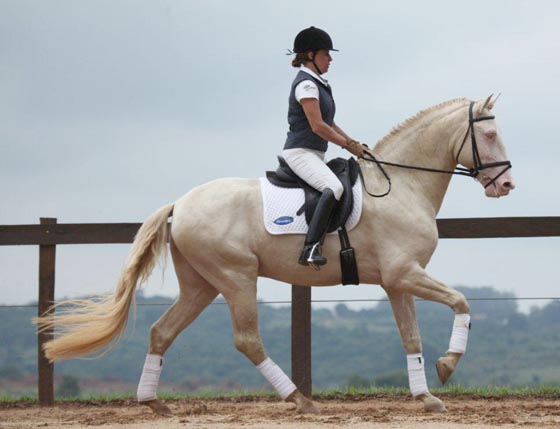 Photo: Tupa