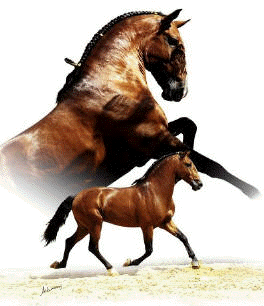 An excellent stallion from both, the Firme/Nilo/Novilheiro and the Quina lineages. About the father Legendário do Mirante, see the Stallion Gallery. The mother, Mundana Interagro is a daughter of the exceptional Xique Xique (CI) (see Stallion Gallery). Mundana Interagro has distinguished herself by the top quality of her sons, all of them excellent performance hors-es with excellent temperament. Quiprocó Interagro is already advanced in dressage and working equitation and his full sister, the mare Relapsa Interagro is part of the Interagro competition team as well as of the Interagro children's riding school.
Trainers' opinion:
Rider: Ananias Torres – (Ananias)
This easy to ride calm horse is being ridden and competed by an 11 yrs old boy. He has had a lot of training. He competes in a great class called 'Working Equitation – Principal Class,' This class test the amazing versatility of the Lusitano horse. In this class they are required to complete four phases; a type of dressage test, a test working with cattle, a speed class and a trail class. Working Equitation is similar to some of the American Working Western classes. The rider does all four phases with the reins in only one hand, even the most difficult movements. This horse comes from a proven Sport horse blood line. He is the full brother of another super popular riding horse of interagro. A mare named Relapsa. This lovely big mare is a favorite of Interagro for the riding school and the dressage team. This horse will be suited for any one who wants to enjoy their riding and try different disciplines.