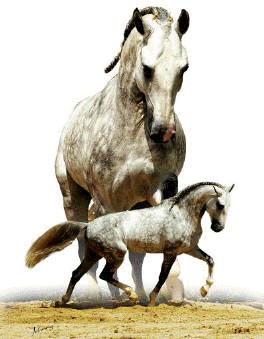 Exceptional young stallion from the Manuel Coimbra (MAC) breeding in Portugal. About his father, Hábil (MV), see text in the Stallion Gallery. Sandokan (MAC) is a full brother of Quieto (MAC), who according to the media news was sold to the U.S. market for one hundred thousand dollars and re-exported to Mexico for 150 thousand dollars. Sandokan (MAC)'s mother, Estrela (MAC) is a daughter of Zelador (MAC), one of the most important stallions in the foundation of the modern Coimbra breeding; Zelador (MAC), sired by Quimono (AA) another historically important Lusitano stallion, received 80 points at revision and was acquired by Coudelaria Nacional (CN) and included in CN's stallion leasing program – whose objective is the improvement of the breed - to be used by other Portuguese breeders. An exceptional opportunity to acquire a very promis-ing stallion of the finest pedigree.
Trainers' opinion: Rider: Rodrigo Evangelista - ( Rodrigo)
This is a Bullfighting horse that shows the characteristics for this classic old sport. He is sensitive, agile and full of energy. These horses are intelligent and eager to please their rider. He shows a talent for collection especially in the canter. At this time in his training, this quality horse would be appropriate for a professional.