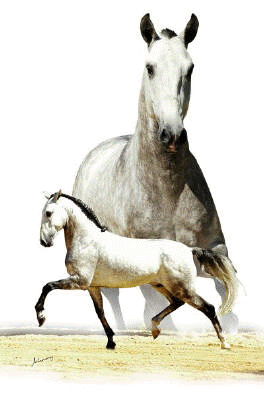 A five-year-old stallion from the Firme (SA)/Nilo (MV)/Novilheiro (MV) lineage.
Like his brother Útil da Brôa - this lovely young horse can successfully be used for both, dressage and reproduction. Tenor (MV)'s mother, Navarra (MV)'s dam is by the fabulous Danúbio (MV), with Embaixatriz (MV), a daughter of the famous Universo (MV), who at his turn sired Bailador II (MV), Útil (MV)'s father. Therefore Tenor (MV) and Útil (MV) are very closely related.
Trainer's opinion:
Rider: Rodrigo Evangelista – (Rodrigo)
Sensitive horse is full of energy comes from a very traditional Portuguese line of horses. He is an imported horse from Portugal. This pure horse was bred to be a breeding Stallion. He is very supple and forward minded.
He has a good character learns very easy.