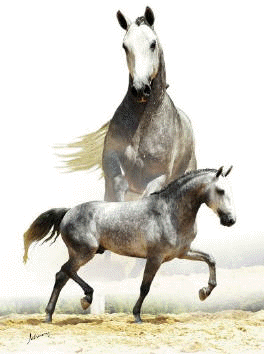 A very promising young stallion from the Firme (SA)/Nilo (MV)/Novilheiro (MV) lineage. The Dam, Marina (MV) is by the most famous Danúbio (MV) – see Stallion Gallery – with Golpada (MV) a daughter of Bailador II (MV). Útil (MV) has the power and genetics to become an outstanding dressage horse and a very successful stallion if used for reproduction.
Trainer's opinion:
Rider: Rodrigo Evangelista – (Rodrigo)
This horse was also imported from Portugal. This green horse shows very good balance in all three gaits. Exceptional for his age and will improve quickly with the right training program. He enjoys learning just needs more experience. He is a naturally forward horse that is very supple. He shows a very good aptitude for Dressage.