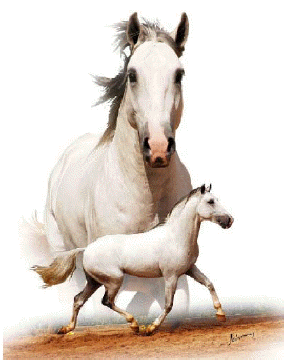 About Quixote Interagro, see the Stallion Gallery at the Interagro´s Website.
Both, Queen and Quixote Interagro, are by Danúbio (MV). Therefore, a very rare and exceptional in-breeding on one of the most famous Lusitano stallions of all times. About both, Danúbio (MV) and Ofensor (MV) see the Stallion Gallery in the Interagro´s Website. More information about Queen Interagro can be read at her mother's, Cigana (MLC) history to be found in the Stallion Catalogue on the texts for her sons Noblissimo, Profano and Obtuso Interagro.
Trainer's opinion: Vadico Interagro looks at you with an intelligent eye and a beautiful face. This forward thinking, sensitive horse shows already he will have a bright future in the show ring. He likes to work and learn. He has 3 correct gaits with lots of expression. He has a very powerful hind leg and a free shoulder. Vadico already demonstrates clear aptitude for trot and canter extensions. His compact body and articulating joints will make collection easy too. Vadico would not be easy for a rider who does not like a forward feeling ride. He is well suited for a rider who is calm and focused. Because of his intelligence and sensitivity he needs his rider to keep him focused on his work by challenging him with interesting exercises. He tries very hard to do what his rider asks of him. If his rider does not keep him busy he could become distracted. He is a horse that would become nervous if he is over corrected. When he is properly balanced through ½ halts he is very light in the hand. If he becomes tense and out of balance, his powerful hind leg will push him onto his shoulder making him stiff in the rider's hand. This horse will blossom with a quiet confident rider that likes to ride exercises that will challenge and interest this clever horse. He is a sweet horse that likes to go out on the hack.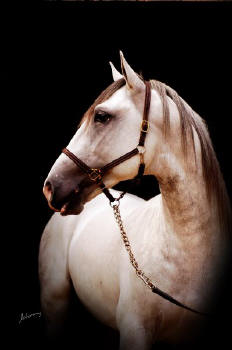 Photo by Johnny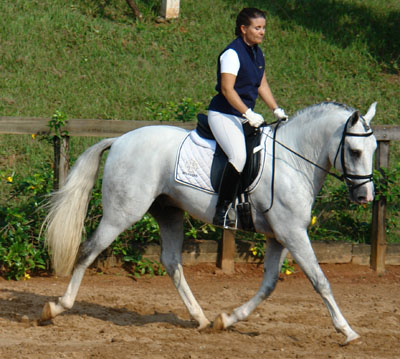 Photo by Interagro - April/2006