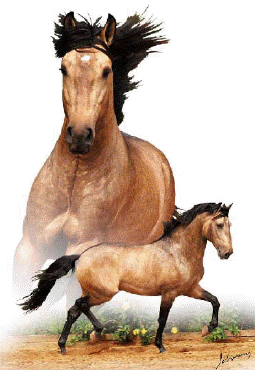 About Nicola (MAC), see the Stallion Gallery at the Interagro´s Website.
The dam, Rachel Interagro, International Grand Champion, Gold Medal, is a daughter of Noblíssimo Interagro and Nicéia Interagro [Faraó (JHC) and Dinastia (SS)], also a Champion, Gold Medal. This is a pedigree with plenty of successful names in the Lusitano breed with respect to their performance in the dressage arena. Rachel has an Interagro offspring of two: Xantoung [with Quínio Interagro] and Vândalo Interagro.
Trainer's opinion: This beautiful big boned buckskin is a very happy horse. He is lovely to deal with, easy on the ground or from the saddle. He gives you the feeling he loves being with you and is out to do his job. He feels and looks far larger than he measures at the withers. This horse is very well started and gives you the feeling you are riding an older horse with more training. You have to remind yourself he is still a baby. He is super in the hand and light to the leg. He presents a very steady outline and is easy to keep on the bit and balanced. His gaits are improving every week as he develops more thoroughness. Because of his lovely demeanor he is already ready to go to a show and show what he has already learned in his short lifetime! He loves to go on the hack or just hang out with you. He is a horse that can make a wide range of riders very happy!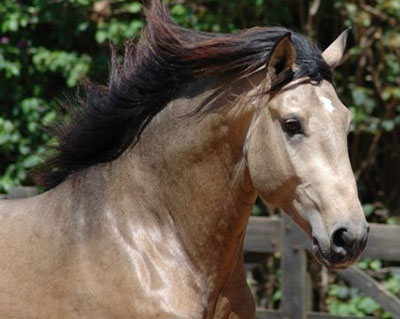 Photo: Julia Wentscher - Germany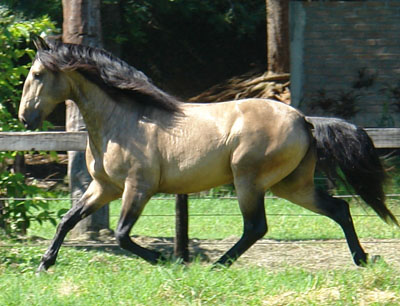 Photo by Interagro - April/2006