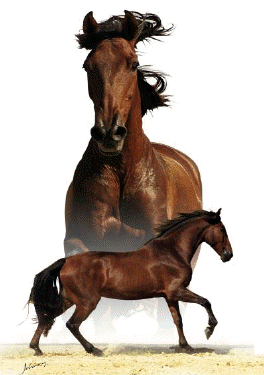 Tall, athletic gelding horse with excellent competitive retrospect being the highest winner among the Lusitanos in Brazil. Verdugo obtained, among others, the 2nd place at the Visa-Indoor and 3rd at the Agromen 1.40m. jumping tournaments.

Presently Verdugo is competing with success in the 1.3m to 1.40 m. jumping at the CHSA in São Paulo. He also demonstrates great aptitude for dressage as will be seen during the 2005 Collection exhibition.

At Coudelaria Rocas do Vouga he concentrated his performance in Showjumping competition. Among several other national contests from 2000 through 2004 it's worth while mention following results :

Highlights and internationals:
CSI The Best Jump Brazil 1,40m 3rd place
CSI Visa Indoor SP/Brazil 1,45m 3rd place
CSI Agroman Orlandia Brazil 5th place

Trainer's opinion: He has always shown great potential and extraordinary strength of character always presenting good performance. At present he is facing a new challenge, the dressage, which has became a natural target for him in his adult years, a performance which matches perfectly his noble features with the training he has undertaken through these years.

Verdugo is doing a good job, at his first and international dressage competition ( St. George CDI AMIL CUP/SP may/05) he obtained a good level mark.

Rider: Ananias Torres – (Ananias)

This horse has always shown great potential and extraordinary strength of character. This proven horse has always shown a consistent performance in the ring. Verdugo is extremely versatile, big horse has proven himself in the jumping ring and in the dressage ring. He has won prizes at the 1.40m/ aprox 4 foot level, jumping and has shown Prix St George. This horse is one of the most accomplished Lusitano jumpers in Brazil. He is a very sensitive horse that is easy to ride for a quiet rider. He loves to go forward and enjoys his work!