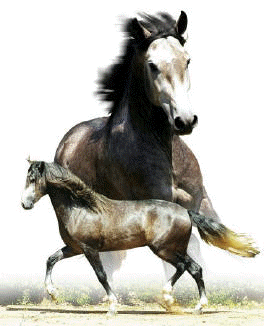 Very impressive big young stallion from a noteworthy dressage family. Versejador Interagro is another young promising stal-lion who represents with much quality the desired athletic characteristics of his ancestors. Versejador's mother, Espora (PB) was an exceptional mare from the Palha Blanco stud in Portugal. Espora (PB) was sired by Cryptogâmico (SA) and Querida (PB), a daughter of another Andrade famous stallion, Eneias (SA). Espora (PB) during her lifetime produced extremely functional, very attractive offspring such as Quinóloga Interagro (Emir II MV) exported to Ecuador and, Presumido Interagro (Legendário do Mirante), Nicotina Interagro (Gatão JHC) and Unhão Interagro (Nicola MAC) all of them exported to the U.S. Two of Espora's daughters are giving continuity to her fantastic breeding job at Interagro: Obreira Interagro (Yacht SA) and Sumida Interagro (Legendário do Mirante).

Trainer's opinion: He has a great temperament with a calm nature, very mature for his age. A good walk and trot; canter is big and it is easy to balance. He is a forward thinking horse with a lot of potential to become a successful competitive dressage horse. He has enough quality to capture the competition rider's eyes and has a temperament that many levels can ride this horse. He is kind and willing to work. His nature makes him easy to work.

Rider: Pia Aragao - (Pia)

Versajador is an impressive big horse! He has a great temperament with a calm nature. This horse truly has three good gaits and he knows he is beautiful! His powerful hind leg with an active hock will make collection easy for him. Watching this horse you must remind yourself he is only three. He is a forward 'thinking' with an elastic body. Versejado is a horse with a lot of potential! We feel he has a very bright future as a competitive Dressage horse and an important breeding stallion!!

Challenges: He has a long neck and can become balanced towards his fore hand if he is not half halted correctly. His jaw will become stiff when he is not engaging his hind legs.

Suitability: With the help of a qualified professional an experienced amateur could ride this horse. He is a happy, full of life young stallion with a good character.

Note: This horse has a very good nature and is level headed. He will become nervous if he hears loud sounds from behind him. If he spooks he will bolt forward but is relatively easy to stop.