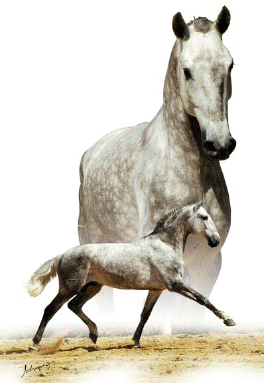 Young, tall, very elegant three year-old stallion under saddle. About the father Marfim do Top – see text on Afiançado de Flandes in the Stallion Gallery. The mother Madona do Top is by Ilustre do Top, a son of Broquel (CN) – see Stallion Gallery, and Estimada do Top, a daughter of Babel (OC). Madona's mother, Borboleta (RC) is a daughter of Vingador (RC), by Palpite (MV) and Oferta (SA), the latter by Firme (SA). In other words, a very promising young stallion out of the Afiançado de Flandes and Broquel (CN) traditional lines and the extra Firme (SA) heritage. Madona do Top offspring: Uno do Vouga and Sol do Vouga, both with Dragão II (SA); Querubim do Vouga with Emético (CL); Vinho do Vouga and Xangô da Primeira Pagina, both with Marfim do Top, and Zidane da União with Quartzo (RC).

Trainer's opinion:
Rider: Ananias Torres – (Ananias)

This horse is very easy to ride. At his young age he can already been ridden by a beginner. He is very calm under saddle in the arena or on the trail. He is a bit nervous in the stall and can weave in the stall. He may be better in an outside corral or paddock.