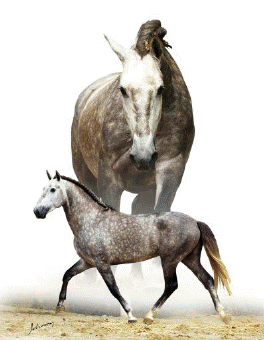 Another young, handsome, tall three year-old stallion under saddle. About the father Marfim do Top - see text on Afiançado de Flandes in the Stallion Gallery. The mother Ramada do Top is by Xelim (FV) a stallion from Francisco Lobo de Vasconcellos with Lagarticha do Top, the mother of Nicotina do Top, twice Great Champion in Brazil. Nicotina do Top was exported to the U.S. Ramada do Top's family is the best of CN's bloodline, descending from Quadrado (CN) a son of Destinado (DH) and Hucharia (CN), both included into the select list of only six "Head of Lineage" of the Lusitano breed recognized by the Portuguese Stud Book. Ramada do Top offspring: Sapateira do Vouga and Tinto do Vouga, both with Nero (CF); Querida do Vouga and Zilda TS both with Quartzo (RC); Virtuoso do Vouga with Marfim do Top; Uva do Vouga, with Oeste (CF).

Trainer's opinion:
Rider: Rodrigo Evangelista – (Rodrigo)

At his first dressage Show, Amil Cup the most prestige's show in Brazil, he scored 70% at elementary level. This is equivalent to Training level in the States. He shows a special talent for dressage. He is a clam steady horse and enjoys working inside the ring or on the trail. He is a very naturally balanced horse in all gaits. This horse has the potential to be a very nice Amateur horse.
Dressage Results


XXIV Exposição Internacional Cavalo Lusitano
São Paulo - Brazil - 20 May 2005


1st. test of this horse, his debut
24th. Place - 32 entries
Judge in C
56.250 %
Judge in H
60.000 %
Judge in M
56,667 %
Total
57,639 %


AMIL DRESSAGE CUP INTERNACIONAL
São Paulo - Brazil - 03 to 05 June 2005


2nd test of this horse
4th place - 13 entries
04/06 - Judge in C
67.083%
04/06 - Judge in H
73.750 %
Total
70.417 %
2nd test of this horse
10th place - 13 entries
05/06 - Judge in C
56.154%
05/06 - Judge in H
62.308 %
Total
64.231 %
Final Score
67.32 %
8th place - 13 entries