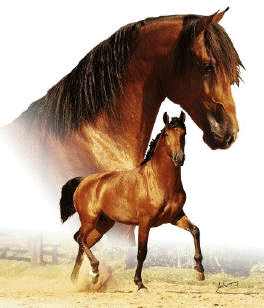 Beautiful young horse whose mother Ninfeta Interagro (a Gold Medal Great Champion in Brazil) a daughter of the fabulous Xique Xique (CI) with Kiwi do Mirante, Brazilian Great Grand-Champion, daughter of the also Brazilian Great Grand Champion Apolo do Mirante. Kiwi's mother Formosa do Mirante's, offspring also includes Nali do Mirante and Umbar Interagro, the latter two exported to the U.S, and a score of very athletic and exceptional individuals. Ninfeta Interagro, up to this date, had the following offspring: Secretário Interagro (with Faraó (JHC)) and Trapeira Interagro (with Legendário do Mirante) both exported to the U.S; Undécima Interagro, Voluntário Interagro, (both with Legendário do Mirante), Xamir Interagro (with Nicola (MAC) and Zinfeta Interagro (with Rocinante Interagro).

Trainer's opinion: This horse is tall and looks elegantly impres-sive. He stands out as a quality horse with big gaits and lots of elasticity. All his gaits are good quality for a dressage competitive horse. He likes to move forward when he is working and keeps a good tempo. He appears light, supple and elastic. This is a very good horse with a bright future but as he is still imma-ture he should at this moment go to an experienced rider.

Trainer: Rodrigo Diego Rodrigues – (Rodrigo)

Voluntario is a tall elegant horse that will make any one proud to own. He stands out as a quality horse with elastic gaits. He is a willing forward horse. He has a natural sense of tempo. His light and supple nature will mature into a beautiful competitive Dressage horse with the right training. Voluntario comes from a long list of Sport horse Champions and good movers. His grandfather on his father's side was a world class Grand Prix Jumper on the European indoor circuit. His bloodlines are very impressive top and bottom. He has the potential to become a very valuable breeding stallion.

Challenges: This horse must be kept reaching into the bit to develop a strong beautiful outline. He is refined and still getting stronger. Time will make a huge difference in this horse's appearance. He has developed and grown a lot in the last few months.

Suitability: This is a very good horse with a bright future. He is athletic and sensitive, at this moment; this horse is better suited for an experienced rider. His nature is very good to ride, he is athletic and sensitive.

Note: In the beginning of his training he showed symptoms of being 'cold backed.' Because of this tendency we lunge him for a few moments before mounting. He has been very good with this program and may out grow this trait. This is a sensitive horse and will excel with a quiet rider.