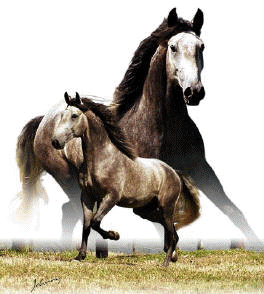 Beautiful, tall, strong, young stallion with a great pedigree. About the father Nicola (MAC) -see text in the Stallion Gallery. The mother Quermesse Interagro is a specially 'designed' mare born out of the crossing of the Firme(SA)/Nilo (MV)/Novilheiro (MV) lineage of her father Legendário do Mirante with the Quina (CI) ancestry of her mother Modelo do Mirante, a daughter of the fabulous Xique Xique (CI). Besides, Quermesse Interagro is twice granddaughter of Ulisséia (RC), the mother of Legendário do Mirante, a very interesting 'in-breeding' on this important mare from Arsênio Cordeiro's stud. Votan Interagro can distinguish himself both as a stallion and as a competitive horse.

Trainers' opinion: This is another easy going young horse with excellent temperament. I think this horse will please both the experienced and the novice rider.

Rider: Rodrigo Deigo Rodrigues (Rodrigo)

Votan is a beautiful horse with a very sweet character. He is light to the riders hand and leg. He has a lovely canter. This horse was chosen late for the collection and has not had as much riding as the other Interagro horses. He has progressed very quickly and shows great promise for the future. His gentle character sometimes needs confidence but his attitude will make his rider smile. He definitely wants to please.

Challenges: He is a sweet horse that needs a confident quiet rider.

Suitability: This is a horse that will be suited for an amateur or young rider. He has a kind nature but will probable never be an over assertive horse. He likes to look at new things and needs a rider that will build his confidence and continue with a smart training program. This horse has a great pedigree and will be valuable as a breeding stallion too.