This beautiful Grey Stallion is a complete eye catcher with his black mane and tips. Like all other stallions included in this Collection, Xampu Interagro has enormous potential as a breeding stallion and a lot of potential as a competitive horse.
Approved as a Stallion by the ABPSL – Associação Brasileira do Puro Sangue Lusitano.
Sire: Olorin Interagro
Dam: Mandona (SA) was part of a very special group of Andrade mares selected and imported from Portugal to be included into the IBM group from which came the modern Interagro Lineage. Her contribution to this most important job was immense as the next paragraph can attest.
Dam's Interagro Progeny: Mandoninha [by Urco (SA), 02/18/93]; Ophelia [Xique - Xique (CI), 07/10/94]; Premissa (07/13/95), Rompedor (07/09/97), Saltadora (07/27/98) and Vibradora (10/21/01) all four with Yacht (SA); Thelesis (Olorin Interagro, 07/29/99); Ungida (Obtuso Interagro 11/15/00); and Xampu Interagro.
Trainer's Opinion: This beautiful light grey stallion with his black mane and dark highlights can steal your heart away. He definitely knows he is special and is very proud to show off. Xampu demonstrates a lot of maturity with a super ability to concentrate on his work. He is all 'boy' and will be happy to announce to the girls that he has arrived. Xampu is very proud to be a Stallion and will show some manageable stallion behavior. Even with his moderate stallion behavior he is a nice horse to handle. Xampu is not spooky and enjoys going on hacks alone or with other boys. He has a free trot and has the ability to develop more expression with correct training and strength. His canter is correct and will also improve with the right relaxation and suppling exercises. His strong body is compact without being too short in the back. He is well started and ready to show 1st level and is easily schooling 2nd level movements. He already has shown very well in Brazil at the equestrian Club in Sao Paulo. Xampu was focused on his test making him very ridable for his trainer. This strong, friendly, well put together horse has a lovely arrogance and pride with a face you will find hard to forget.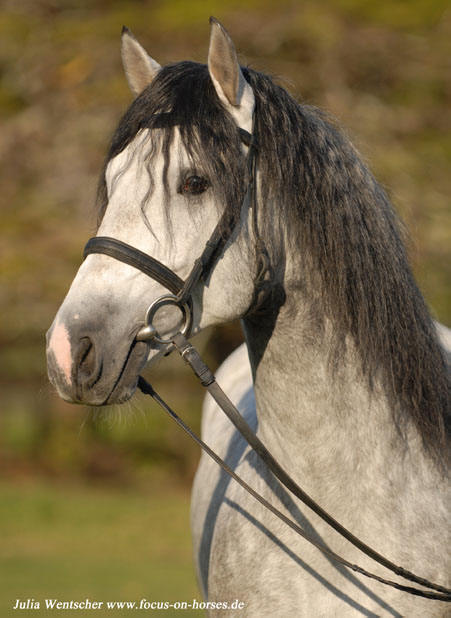 Click on the tumbnails to enlarge the pictures