Young, beautiful buckskin stallion with a rare and highly respected pedigree. Xazan has an immense potential for reproduction and for all sorts of equestrian disciplines.
Approved as a Stallion by the ABPSL – Associação Brasileira do Puro Sangue Lusitano.
Sire: Nicola (MAC)
Dam: Latina (JBN) is a top Núncio (JBN) mare imported from Portugal when Mr. José Núncio, son of the famous bullfighter João Núncio – "the Caliph of Alcácer – agreed to sell his mares to Interagro. The extreme degree of consanguinity of the Núncio horses makes of their mares a precious genetic material which, when properly managed, produce the most typical and functional Lusitanos. Latina and the other Núncio mares now at Interagro are no exceptions. One particular characteristic of the highly consanguineous Núncio horses are their late development, reason why it is so difficult to find young horses of that origin.
Dam's Interagro Progeny: Ufania Interagro [by Visqueiro (CI)]; Zirna, Aldebaran, Batina and Cônego Interagro [all four by Ofensor (MV)] and XAZAN.
Trainer's Opinion: This Buckskin has often been used in the advertisements for the 2008 Collection. Xazan has an extremely impressive presence! He is beautiful with an iridescent gold color, four matching white socks and a muscled well balanced physique. When you see Xazan 'moving' you really understand what a powerful package this horse presents. He is very naturally balanced and loves to go forward. Xazan has a super canter. He never seems to lack in confidence. He loves to go on adventures inside the ring or out on the hack. When he arrives in an arena, I dare you not to look at him. He carries himself with tremendous presence and a happy expression. His trot is powerful and shows a solid regularity with lots of potential for extensions. His walk is correct but will need to continue to develop through relaxation and suppleness. He knows he is a 'boy' and will tell all the girls in the area. If he was gelded he would probably settle down his calling and become less distracted for an amateur, but he is a very manageable stallion.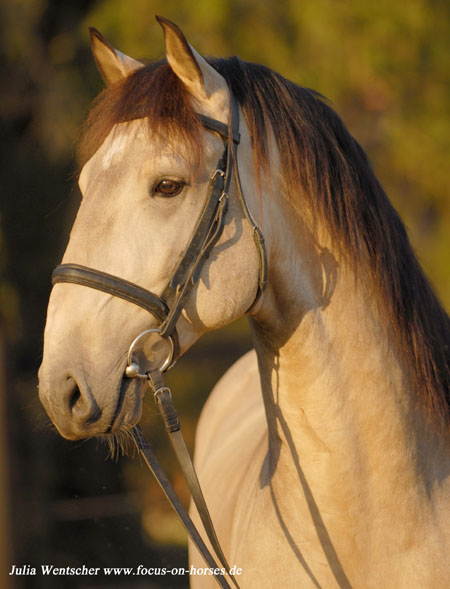 Click on the tumbnails to enlarge the pictures