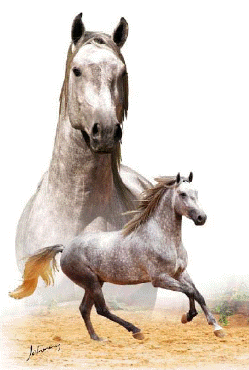 About Perdigueiro (MAC), see the Stallion Gallery at the Interagro´s Website.
The dam Kidnapped (SA) is one of the most important females in the selected Interagro Group of Brood Mares. Her offspring of ten superior individuals, includes two official Interagro Stallions: Olorin Interagro [with Xique Xique (CI)] and Querer Interagro [with Yacht (SA)] – see Stallion Gallery for additional information about the two stallions and Rapinada (SA), Kidnapped (SA)'s dam. This young stallion can be of great interest for any Lusitano breeder in the world.
Trainer's opinion: Another beautiful big horse who is very impressive to watch. Xenofonte Interagro is elegant, powerful, elastic in his movements. He covers ground with great ease. He has the right 'look' for dressage, a natural balance frame and three quality gaits. He knows he is beautiful! He carries himself with that great arrogance that helps so much when you enter the show ring. He will grow bigger and stronger and has the potential to blossom into a magnificent horse. Xenofonte is a gentle, easy going horse but at the same time he can be strong minded. Out of the Interagro group he reminds me the most of a warm blood. He will be very pleasing to the rider/trainer who is looking for more size and substance. He is another horse that you may have to remind someone he is a Lusitano. Xenofonte stands out as something very special. He shows the look of a horse that could be successful in competition and a corner stone horse for a breeding program. Xenofonte will need an experienced rider. Xenofonte Interagro is a bold intelligent Stallion, with the right training program he will be a star!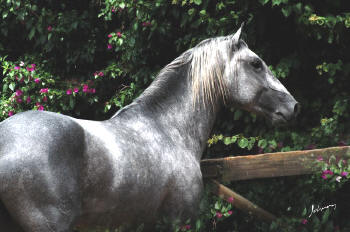 Photo by Johnny