Young mare under saddle with excellent pedigree from the best functional Lusitano lines.
Sire: Nicola (MAC)
Dam: Noiva ( MCB ), imported from Portugal, is a daughter of Rabi (JM) and Unida (OI). Rabi (JM), a Veiga/Maltez stallion, left a very functional offspring, including bullfighting horses. The mother Unida (OI) comes from the Oliveira Irmãos stud, famous for its functional buckskin horses, like Zamorana.
Dam's Interagro Progeny: Xerva Interagro [by Pilatos Interagro]; Bachiana and Crioula Interagro [both by Nordeste (SS)]; Ucrania, Alabarda and ZAMORANA Interagro [all three by Nicola (MAC)].
Trainer's Opinion: This mare is truly loved by her trainers in Brazil. She has been wearing a little string around her pastern that her trainer had blessed at the chapel to bring this mare good luck in finding her next home! He has ridden her everywhere around the farm and treats her like his best friend. She is so beautiful in her color and her personality. One person said she is the kind of horse that shows such patience and understanding you have to remind yourself she is a baby. This mare is destined to make someone very happy; not only is she super comfortable to ride, she has 3 nicely competitive gaits that will make a very fun horse to compete. She is confident and always willing. Look for this mare to blossom by the Collection. She too has great potential to be a super amateur horse for a competition and all around enjoyment.

Photo: Tupa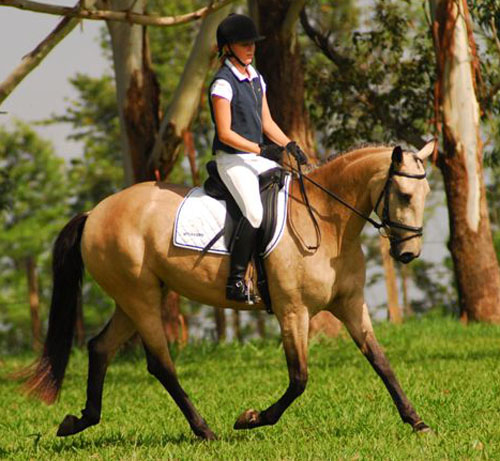 Photo: Tupa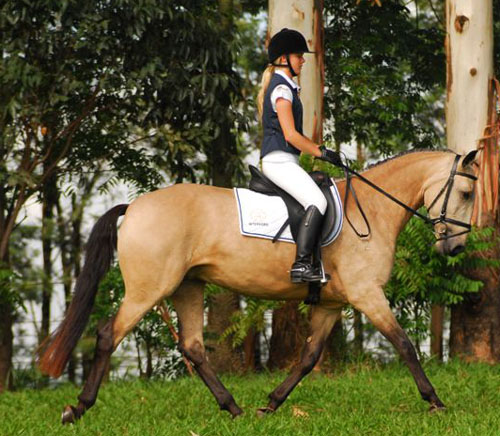 Photo: Tupa