Sire: Ofensor (MV)
One of the five outstanding Ofensor (MV)´s offspring to be offered at this Collection
Dam: Malga (MAC) a grand daughter of the mythological Toleirona II (MV) was a brood mare of excellent production having left an offspring of five impressive individuals.
Interagro Dam's progeny
Sabina Interagro by Noblíssimo Interagro on 07-jul-1998
Temerário Interagro by Legendário do Mirante on 31-jul-1999
Ulorina Interagro by Olorin Interagro on 03-aug-2000 (Exported to USA in 2003)
Alarico Interagro by Ofensor (MV) on 09-aug-2004
Boreas Interagro by Tornado Interagro on 12-aug-2005
About Zero:
Zero Interagro is a handsome package with a super pedigree that includes training, gaits and looks! With his distinctive kind, black eye and white color, this handsome horse shows excellent promise for a bright future in the show ring. He has a free shoulder and a balanced frame that finds lateral work and engaging very easy to achieve. Zero is a compact horse that shows great talent for piaffe and passage. He is able to demonstrate this on his own without being asked; for example; if he loses his confidence he will show you his bull fighting blood and quickly spin, move sideways or piaffe in place. Once he is reassured he is quickly back to work. Zero is very proud of his front feet and loves to use them for things like swatting at the 'dangerous butterfly'! Zero is nothing short of an excellent athlete. His natural talent makes him a pleasure to ride for the confident, quiet rider; however, being very sensitive, Zero is the type of horse to blossom with one rider who likes to ride a horse that knows how much 'air' you have in your lungs. He needs a patient trainer who will build his confidence; he can easily do things as long as he trusts his rider. This stallion is a winning choice for an experienced rider who values a smart, receptive horse! Another grand example of his sire, Ofensor (MV), Zero will be sure to attract the judge's eye with his noble appearance and expressive gaits.
Results P.I.A. – Dressage Test at Interagro
Date: November 1st, 2008 - Place: Interagro Dressage Open Arena
Judge: Mrs. Maria Elisa Simões de Moraes
Training Level Test 4 - 3rd. Place ridden by Miss Monique Ferreira (62,00%)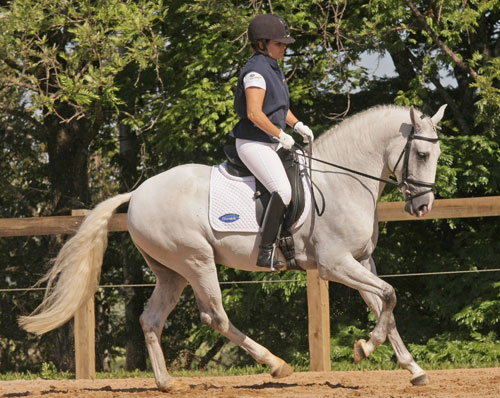 Photo: Tupa
Click on the tumbnails to enlarge the pictures
Approved as Stallion by the ABPSL