A very interesting, strong and functional young stallion with a top pedigree. Can be successfully used for breeding purposes or for the equestrian disciplines.
Approved as a Stallion by the ABPSL – Associação Brasileira do Puro Sangue Lusitano.
Sire: Perdigueiro (MAC)
Dam: Questa Interagro is one of the fantastic brood mares sired by Danúbio (MV) at Interagro Farms. Questa's mother, Lágrima do Mirante is an outstanding daughter of the fabulous Xique - Xique (CI) and one of the founding mares of the IL.
Dam's Interagro Progeny: Uceda [Nicola (MAC), 12/17/00]; Vernon (Quixote Interagro, 11/21/01); Xuesta (Quínio Interagro, 11/12/02); Amarylis (10/28/04) and Boadicea (10/10/05) both with Ofensor (MV); Carabineiro (09/16/06) and Zigoto, both with Perdigueiro (MAC).
Trainer's Opinion: This is one of Heather Bender's favorites! His appearance is elegant, athletic and very well balanced naturally. Zigoto has the quality to be a professional's horse but with training and time, he could suit an amateur too. He is wonderfully uncomplicated in the way he goes and very confident in his attitude. He knows he is a stallion but he is not rude. He carries himself with pride and attitude. He will shake his neck around in the beginning of his work just to remind you he has his own mind. After you get that message he is quick to focus and get down to business ready to try what ever you suggest. He likes to go out or work in the ring. He demonstrates how intelligent he is by how quickly he learns. He gives his rider a super feel, much bigger than he measures. Zigoto, like all the horses of the Collection is still growing. Lusitanos make a huge transformation of size and strength from 4 years to 8 years old. So be careful not to underestimate Zigoto or any other horses in the Collection or you could loose a great opportunity to ride a star!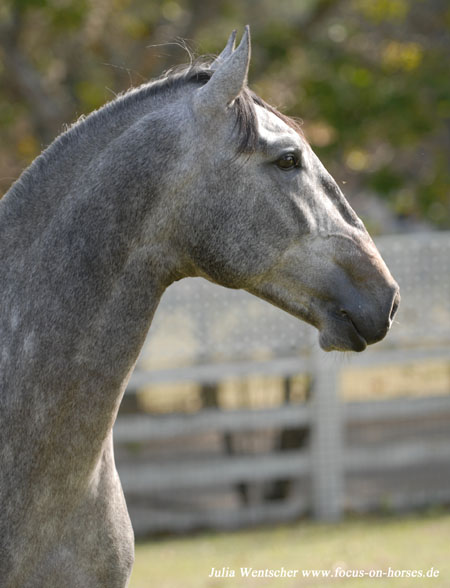 Click on the tumbnails to enlarge the pictures