Sire: Rocinante Interagro
Ninfeta, Grand Champion, Gold Medal out of another Grand Champion, Kiwi Interagro, is one of the top mares in the IBM. Her genealogy, bringing together her mother's exceptional qualities with those of Cigana (MLC) – the most important amongst the founding mares of the Intergaro lineage – not to mention all other names exhibited in her impressive pedigree such as Xique - Xique (CI) and Apolo do Mirante, makes this young mare a serious prospective candidate for the continuation of her female ancestor's success as a top brooding mare. Notwithstanding this breeding excellence, Zinfeta's brings also an outstanding heritage of very functional horses, attested by a very long list of titles and prizes won at the competition arena in many equestrian disciplines. Just to give a brief idea of what we are talking about, from Ninfeta's offspring listed below, two: Secretário and Voluntário were exported to the U.S., and one, Xamir to Austria. Her newest baby, the filly Chanel Interagro (by Nirvana Interagro) has been already selected by our trainers to be groomed for future training as a dressage mare.
Dam's Interagro Progeny: Secretário [Faraó (JHC), 08/06/98]; Trapeira (08/10/99), Undécima (11/06/00) and Voluntário (10/11/01), all three by Legendário do Mirante; Xamir [Nicola (MAC), 09/13/02]; Adega [Perdigueiro (MAC) 08/21/04]; Berta (Quixote Interagro, 07/27/05); Chanel (Nirvana Interagro, 09/09/06), and Zinfeta.
Trainer's Opinion: This mare Pia Aragão and Heather Bender will be fighting over who gets to ride her. When they watched her go, they looked at each other with that knowing glance; they really found a special mare for the competition ring! She is beautiful! 3 super gaits! A canter that feels as if she will be able to do anything you ask. Zinfeta has a powerful build with grace and agility. She is going to be a competitor. She has fire and intelligence that people who love riding top mares will feel instantly. She is brave and very willing to learn new things. You can feel when you ride that she will be very powerful. She feels unlimited in her possibilities. Zinfeta Interagro is a great example of what a top dressage competitor will look for in any young horse. Zinfeta shows no negative mare attitude. Zinfeta will be best suited for the more experienced rider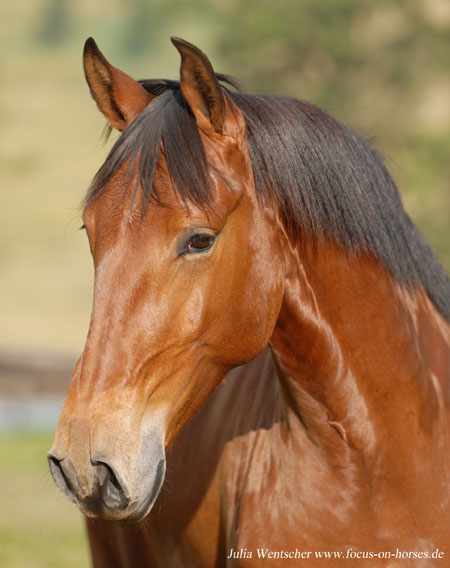 Click on the tumbnails to enlarge the pictures