Another beautiful young horse of excellent pedigree and a great prospective future dressage champion. Like all Ofensor (MV)'s offspring this outstanding individual shows since his early age a lot of qualities.
Approved as a Stallion by the ABPSL – Associação Brasileira do Puro Sangue Lusitano.
Sire: Ofensor (MV)
Dam: His young dam, Redonda (MAC), imported from the Coimbra stud in Portugal, is one of the top mares in the Interagro Select Group of Brood Mares. Zino is her older son, the first to be put under saddle, but his younger brothers show the same qualities and finesse.
Dam's Interagro Progeny: Xabrega Interagro [by Nicola (MAC)]; Augustus Interagro [by Quixote Interagro ]; Cronus Interagro [by Quínio Interagro]; Boromir and ZINO Interagro [both by Ofensor (MV)].
Trainer's Opinion: This horse is elegant, leggy and a star with an amazing canter and lovely walk! Zino is another horse that has been extremely easy and consistent to train. You will have to constantly remind yourself this horse is so young. Zino is a very confident horse with an amazing temperament and natural balance. His trainer said that he can not believe how consistent Zino is day to day in his training and his attitude. He went on to say he will miss him greatly when he goes to Florida. His wish is for him to get a great new owner that will appreciate this super horse. Zino's consistency is such a great quality for making progress in your training program! He shows very little stallion behavior. He is a super horse for a rider who wants; talent, trainability; and super quality friend that comes in an uncomplicated package. This horse will suit a wide group of riders, from those who are looking for a top competitive horse to someone who just wants a very talented friend. In the correct training program I know he will be a dream come true for someone!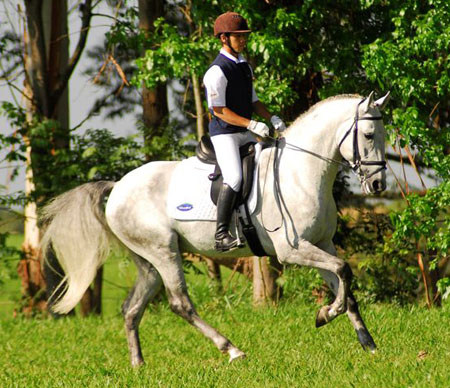 Photo: Tupa