Very impressive young stallion with a lot of quality. Has an excellent pedigree. Can be used for breeding and for the equestrian disciplines.
Approved as a Stallion by the ABPSL – Associação Brasileira do Puro Sangue Lusitano.
Sire: Profano Interagro
Dam: Novela (MAC) from the Coimbra Stud in Portugal was imported while still a young filly. Her top production assured her a place in the IBM.
Dam's Interagro Progeny: Scherazade (08/18/98) and Timoneiro (10/12/99), both with Legendário do Mirante, Uzeda (11/18/00) and Vercingetorix (11/22/02) with Visqueiro (CI), Byrsa with Ofensor (MV), Chopin with Nirvana Interagro and Zippo.
Trainer's Opinion: This guy is one of the farm's favorites! You can't help to appreciate this horse. He has excellent, what we like to call 'X' factor. Zippo's has a beautiful dark coat, lots of mane and tail, extremely expressive gaits, and an ambitious attitude to please, how can you not love him? This horse can move with the 'big boys'! He shows tremendous talent for extension and suspension. He is still very young and will need to get stronger to be able to back up his big effort. He shows amazing movement for moments and than like you should expect with a young horse, he can loose his balance. He will need to work on his walk to develop more relaxation; his over ambitious attitude can cause him to be in a hurry. His walk quality when he is relaxed is good. His trainer wants you to know this horse loves apples! Zippo would be an excellent choice for a smaller rider that is looking for a light, exciting big moving horse that will be taken very seriously in the competitive arena!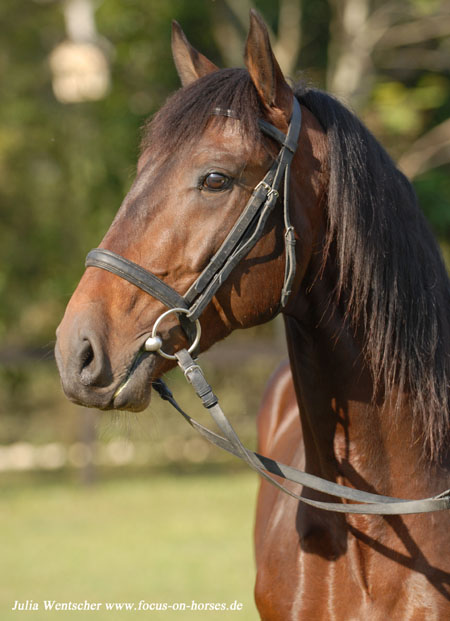 Click on the tumbnails to enlarge the pictures