Sire: Perdigueiro (MAC)
Dam: Queen Interagro has a fantastic pedigree, being a daughter of Danúbio (MV) and Cigana (MLC), the most important founding mare in Interagro's lineage. Besides Queen, she has begotten a series of Gold Medal Champions, heads of greatly prized progenies, like Profano (by Legendário do Mirante); Obtuso – Dressage Champion, now in the U.S by Yacht SA, Noblíssimo by Xique-Xique , Rocinante by Distinto (MAC) and Xerxes by Quínio Interagro. Queen´s son Attalus Interagro was recently approved as a Stallion with the high score of 81,5 points at 4 years old only.
Interagro Dam's progeny
Ustica Interagro Interagro by Visqueiro (CI) on 02-sep-2000
Vadico Interagro by Quixote Interagro on 11-sep-2001 (Sold at The 2006 Lusitano Collection)
Zinfadel Interagro by Quantum Interagro on 11-aug-2003
Attalus Interagro by Quixote Interagro on 31-aug-2004
Byron Interagro by Quixote Interagro on 25-aug-2005
Camélia Interagro by Quixote Interagro on 08-aug-2006
Desirée Interagro by Perdigueiro (MAC) on 20-sep-2007
About Xenócrates:
Xenócrates Interagro has an exceptional, noble character and proven trainability. This exquisite stallion has an impressive show record through 2nd level and is ready to move up to 3rd. He is successfully training his single change. A horse that has demonstrated great heart and willingness to please his rider, Xenócrates is a barn favorite and will be greatly missed when he moves to his new home! Even though he is a breeding stallion, his personality is kind and calm. His walk demonstrates a big hind leg step, and his canter exhibits a quick, active hock while his concentration contributes to a steady and rhythmic tempo. We are very proud to offer such a wonderful example of character, training and Lusitano pedigree from Interagro. Xenócrates is a horse for the owner who wants the whole package: an impressive pedigree from his sire, Perdigueiro (MAC), for a breeding program, a proven competitor for the show ring and a reliable character for the stable! Because of Xenócrates Interagro's kind temperament, a less experienced competitor is able to ride this stallion successfully!
Dressage results:

July 4th to 6th, 2008 - São Paulo Dressage Cup at CHSA
Vice Champion in ABPSL Ranking – First Level and 3rd Place (all breeds) ridden by Pia Aragão

12 and 13/Mar/2008 – CHSA
Winner of ABPSL and CBH Brazilian National Dressage Competition – First Level (March 2008) ridden by Pia Aragão

16 and 17/Nov/2007 – CHSA
Champion of the ABPSL National Dressage Championships 4 years old horses and Vice Champion 4 years old horses (all breeds) ridden by Pia Aragão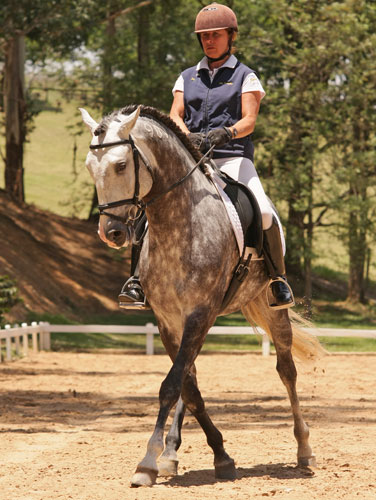 Photo: Tupa
Click on the tumbnails to enlarge the pictures
Approved as Stallion by the ABPSL