Sire: Quixote Interagro
Dam: Kidnapped (SA)
Barcida's dam, Kidnapped (SA) [Trovador (MV) x Rapinada (SA)], is one of the few surviving ancient mares from the Coudelaria Andrade (SA) and a founding mare of the Interagro lineage. "All about Kidnapped (SA)" can be found in the book "The Lusitano Horse – Basic Lineages." Trovador (MV) was a Veiga stallion sent to cover Andrade mares in reciprocity for Firme (SA), the Andrade stallion that served in the Veiga's siring of the famous stallions: Novilheiro (SA), Nilo (SA), Neptuno (SA) and Opus II (MV). Equally significant is Kidnapped's dam, Rapinada (SAA), who is the dam of Zamorim (SA), one of the three most important sons of the founding stallion of the Andrade lineage, Martini (SA) – - the other two being Urco (SA) and Yacht (SA). To date, Kidnapped has a progeny of thirteen excellent individuals, among them the stallions, Olorin Interagro and Querer Interagro, both sold, and Xenofonte Interagro, who was part of The 2006 Collection and exported to the U.S. Through his sire, Quixote Interagro [Danúbio II (MV) x Dançarina (RC)], Barcida Interagro inherits the most desired Firme (SA)/Nilo (MV)/Novilheiro (MV) lineage. Barcida's exceptional pedigree is in great demand because it is very difficult to find Lusitanos with these important lineages in the market place. Barcida and his brother, Belisário Interagro, also offered at this Collection, are two very promising young stallions.
Interagro Dam's progeny
Olorin Interagro by Xique-Xique (CI) on 17-sep-1994
Progresso Interagro by Yacht (SA) on 07-jan-1996
Querer Interagro by Yacht (SA) on 09-dec-1996
Roberval Interagro by Noblíssimo Interagro on 06-nov-1997
Solaia Interagro by Faraó (JHC) on 24-dec-1998
Ursus Interagro by Legendário do Mirante on 22-jul-2000
Vaidosa Interagro by Quilate Interagro on 15-aug-2001 (Exported to Ecuador in 2004)
Xenofonte Interagro by Perdigueiro (MAC) on 11-aug-2002 - Sold at The 2006 Lusitano Collection®
Zidna Interagro by Yacht (SA) on 03-aug-2003
Albatroz Interagro by Perdigueiro (MAC) on 12/Sep/2004 – Sold at The 2008 Lusitano Collection®
Conselheiro Interagro by Perdigueiro (MAC) on 15-dec-2006
Dagmar Interagro by Ofensor (MV) on 19-dec-2007
Excedente Interagro by Perdigueiro (MAC) on 02/Dec/2008
Trainer's opinion
Barcida Interagro is a stunning stallion with talent! His iridescent silver white color and beautiful conformation along with an unforgettable face make this stallion hard to forget! He likes to call from the stable and be the first to go out to work! Proud, with a strong character and a super physique, Barcida may become spirited and boisterous, but he should settle down as he matures. His riders have complimented his lovely canter. He enjoys jumping and shows potential to do more. This sweet horse will progress quickly with a confident, calm rider who provides him with a solid training program. Barcida Interagro has three very competitive gaits and responds well to his rider. While he prefers to go out on hacks without other horses, he will go out in a group, if asked. Barcida Interagro has super bloodlines. His father, Quixote Interagro, is a very important stallion to Interagro and is a half brother to Ofensor (MV). His dam, Kidnapped (SA), one of Interagro's gems, is the mother of many successes -- Querer Interagro, Albatroz Interagro, Xenofonte Interagro and Olorin Interagro. Very few sons from Quixote Interagro have been offered before -- only Velasco Interagro in 2005, Vadico Interagro in 2006 and Appiano Interagro in 2009. Given his abilities, looks and this special pairing of Quixote Interagro with Kidnapped in his pedigree, Barcida Interagro will make a fine prospect as a breeding stallion.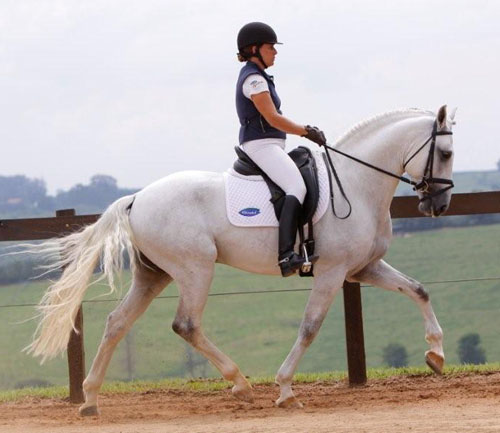 Photo: Tupa



If you are having trouble seeing the video above, please update your flash player by clicking HERE.













Click on the tumbnails to enlarge the pictures

Approved as Stallion by the ABPSL