Breeding & pedigree information
Information about his parents can be seen at the pedigree below. The sire, Perdigueiro (MAC)'s progeny of 106 individuals, has consistently shown superior conformation and rideability, explaining why this stallion has been repeatedly used in our breeding program. Contrary to his brother Campeiro Interagro, also offered at this Collection, Carabineiro Interagro is a stallion perfectly fit for reproduction activities at any Lusitano breeder. Carabineiro Interagro's dam, Questa Interagro, is a daughter of the renowned Danúbio III (MV), one of the most important Lusitano stallions of all time and father of the no less fantastic Ofensor (MV), the best Lusitano stallion alive. Questa Interagro has a progeny of ten excellent individuals, among them, Zigoto Interagro, the full-brother of Carabineiro sold at the 2008 Collection. Three daughters of Questa Interagro, Xuesta, Amarylis and Boadicea Interagro belong to the select Interagro Group of Brood Mares.
Interagro Dam's progeny:
2000 – Uceda Interagro by Nicola (MAC)
2001 – Vernon Interagro by Quixote Interagro
2002 – Xuesta Interagro by Quínio Interagro
2003 – Zigoto Interagro by Perdigueiro (MAC) – sold at The 2008 Lusitano Collection
2004 – Amarylis Interagro by Ofensor (MV)
2005 – Bodicea Interagro by Ofensor (MV)
2007 – Drake Interagro by Tufão Interagro
2008 – Equesta Interagro by Perdigueiro (MAC)
2009 – Filamon Interagro by Bizet Interagro
Trainer's Opinion by Heather Bender
Carabineiro Interagro is a powerful, confident, and noble young stallion. He gives his rider a much bigger feeling than he measures and, at this young age, is clearly still growing. Carabineiro Interagro shows very good quality of movement and charisma that will no doubt serve him well in the competition ring. He is a naturally balanced horse that is comfortable to ride. His personality and confidence is more suited for an intermediate to advanced rider. He could be a bit pushy for a timid rider. He is cool and smart; however, he will need quiet, but clear boundaries. For a rider that can accomplish this, Carabineiro will jump through fire and bond with his rider! This talented 4 year old has a fabulous future. In the right training program Carabineiro Interagro will undoubtedly be a super star.
Click on the links at the pedigree below to know more about the ancestors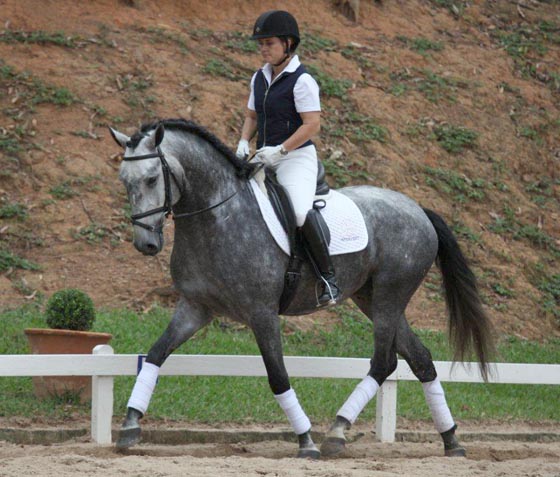 Photo: Tupa