Breeding & pedigree information
Carbono Interagro is another representative of the most popular Lusitano sport lineages. His sire Nordeste (SS) has an Interagro progeny of 42 very functional horses, the vast majority black. Carbono Interagro's dam, Trovoada Interagro, also black, has an Interagro progeny of seven, including Zulu Interagro, sold at the 2008 Collection, and Blackstone Interagro at the 2010 Collection. Carbono Interagro's excellent pedigree, 1/8 Firme (SA) and ¾ various Veiga-related lineages: Quina (CI); Coimbra (MAC) and (MV) itself, as a result of its success in all equestrian disciplines, is in high demand and, consequently, very difficult to find. Carbono Interagro has all physical and performing qualities to become an athlete and a top stallion.
Interagro Dam's progeny:
2003 - Zulu Interagro by Profano Interagro - sold at The 2008 Lusitano Collection®
2004 - Assíria Interagro by Nordeste (SS)
2005 - Blackstone Interagro by Nordeste (SS) – sold at The 2010 Lusitano Collection
2007 - Dida Interagro by Nordeste (SS)
2008 - Exemplar Interagro by Profano Interagro
2009 – Fagulha Interagro by Zíngaro Interagro
Trainer's Opinion by Heather Bender
Carbono Interagro is an uncomplicated, happy, and talented young stallion - the requirements that so many riders are looking for in their next competition horse! And he is very trainable. He demonstrates a great shoulder and a big elastic stride when ridden in the right balance. His white stripe and happy expression will delight those who watch him work. He loves the hack and has not shown any stallion behavior under saddle or on the ground. Carbono Interagro, because of his lovely nature and honest attitude is suited for a wide group of riding levels. He is not pushy nor overbearing so, probably, will go better for a rider who is sensitive to his kind nature. Carbono Interagro, with his active hind leg and big shoulder, already shows the ability to extend his gaits and is sure to have lots of potential to become a lovely dressage horse as well as an enjoyable partner for his owner.
Click on the links at the pedigree below to know more about the ancestors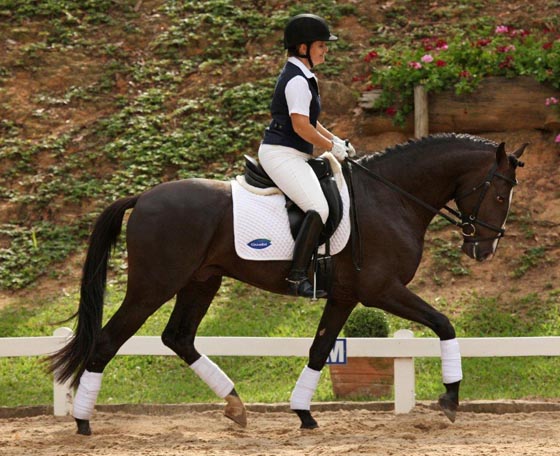 Photo: Tupa