Breeding & pedigree information
The sire Perdigueiro (MAC) has, so far, an Interagro progeny of more than one hundred top class individuals. Twelve of his sons have been exported to the U.S., signaling the great acceptance, in great part due to their docility and beauty, that they receive in international markets. From the twelve horses exported to the U.S., five: Acorde, Albatroz, Berloque, Baluarte, and Ximenes come from Núncio (JBN) mares. João Núncio, the greatest of the Portuguese bullfighters, rode Veiga horses in the arena to select those who would be used as stallions by Manuel Veiga. In this process he obtained some Veiga mares and created his lineage. Like all traditional Lusitano breeders, he never sold them to other breeders. João Núncio's agreed to sell their mares to Interagro, where they are responsible for the input of this unique strain, which nobody else has, into the Interagro lineage.
Interagro Dam's progeny:
2003 – Zefir Interagro by Rocinante Interagro
2004 – Acorde Interagro by Perdigueiro (MAC) – sold at The 2009 Lusitano Collection
2005 – Batuque Interagro by Perdigueiro (MAC)
2007 – Desafinada Interagro by Perdigueiro (MAC)
2008 – Enfermeira Interagro by Perdigueiro (MAC)
2009 – Fabula Interagro by Nirvana Interagro
2010 – Gondolin Interagro by Baldor Interagro
Trainer's Opinion by Heather Bender
This is a very pretty stallion with a beautiful eye; he clearly wants to bond with his rider. Craveiro Interagro displays a consistently good attitude and shows a very good aptitude to learn what you are trying to teach him. He is very serious and thrives when he feels he has done something right. He has correct gaits and an elegant way of going. His canter is good quality while also being very comfortable to ride. Craveiro Interagro always wants to please and is never pushy or overbearing. He is a horse that benefits greatly from the kindness of his rider and will probably always respond best to praise and positive reinforcement. Craveiro Interagro would be well suited with a kind rider who is looking for a serious horse that wants to learn and please his rider.
Click on the links at the pedigree below to know more about the ancestors
Craveiro Interagro

Perdigueiro (MAC)
Hábil (MV)
Dardo II (MV)
Canela (MV)
Fidalga (MAC)
Zelador (MAC)
Xará (JNF)
Rapsódia (JNU)
Incrível (JNU)
Almaviva (JNU)
Corisca (JNU)
Xibita (JNU)
Requinte (BN)
Dourada (BN)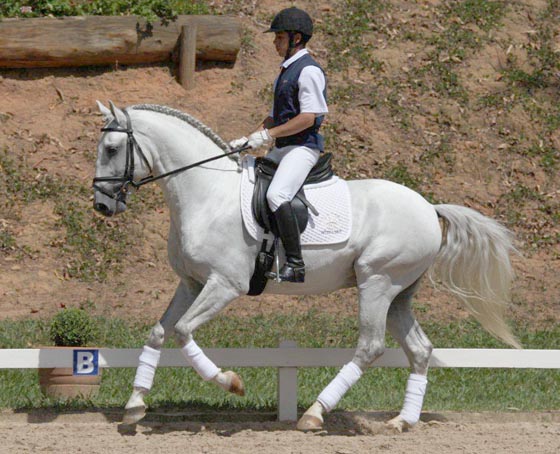 Photo: Tupa