Breeding & pedigree information
Cronus' sire, Quínio Interagro is one of the top five stallions in the Interagro program, having so far, a progeny of 103 sons/daughters. The price record in the 2010 Collection, Beato Interagro, was Quínio's son. Cronus' dam, Redonda (MAC) from the Coimbra lineage, is a very beautiful and important brood mare, having, so far, an Interagro progeny of nine exceptional descendants, including Zino Interagro, sold at the 2008 Collection. The architecture of Cronus' pedigree follows exactly the ideal blood combination that has consistently proven to be the best for competitive horses, and exactly reflects the structure of the Interagro modern Lineage. For these and many other reasons which cannot be discussed in this short space, we strongly recommend this young stallion for reproduction.
Interagro Dam's progeny:
2002 – Xabrega Interagro by Nicola (MAC)
2003 – Zino Interagro Interagro by Ofensor (MV) – sold at The 2008 Lusitano Collection
2004 – Augustus Interagro by Quixote Interagro
2005 – Boromir Interagro by Ofensor (MV)
2007 – Demoiselle Interagro by Ofensor (MV)
2008 – Euterpe Interagro by Quixote Interagro
2009 – Frívola Interagro by Quínio Interagro
Trainer's Opinion by Heather Bender
When you meet Cronus Interagro, you will quickly see that he is the biggest horse of Interagro's collection. For some perspective on his size, note that his rider is over six feet tall in the video and photos. Due to his size and substantial bone, we started him last of all the young boys. This beautiful stallion has less than a year under saddle but his super character would make you think he has been in training much longer. Our original thought was he was going to be ready for the 2012 collection not the 2011. However, his natural intelligence, trainability and great equilibrium helped us to realize we could bring him to this year's collection to offer a buyer a very special opportunity. Interagro realizes that this could be an 'experienced horseman's advantage,' they will see the talent and the possibility this super horse has for his future. He is a gifted horse who will continue to improve and advance with time. He already demonstrates suspension in his extensions along with an amazing walk. Cronus Interagro is, easily, another super horse for the serious competitor who is looking toward a future in the FEI. This is a stallion that will probably reach 17 hands and will naturally have an impressive length of stride.
Click on the links at the pedigree below to know more about the ancestors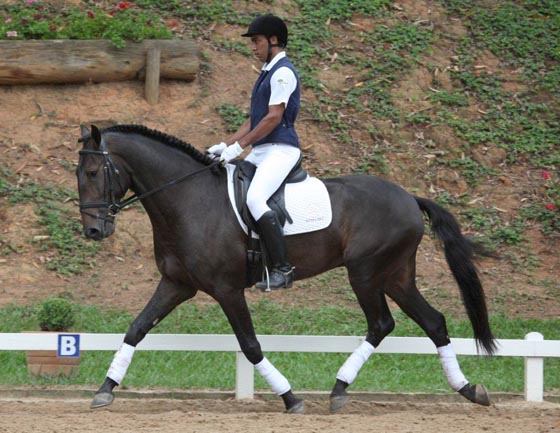 Photo: Tupa