We are proud to bring Xerxes Interagro to the 2011 Collection to be one of our stars offered! Maybe he can make your dreams come true? He is the right choice for the person looking for a friend, competition horse and approved breeding stallion, all in one.
Breeding & pedigree information
Xerxes Interagro is a young approved stallion already exhibiting an excellent Interagro offspring of five colts and one filly. His son, Furiel Interagro was one of the stars of the Interagro Brazilian Auction in August 2010, bought by one of the most important Lusitano breeders in Brazil. His dam, Cigana III (MLC) is one the most important "Founding Mares" of the Interagro lineage. Cigana III (MLC) is the dam of six official Interagro stallions as well as four brood mares and two fillies which are, or will be, integrated in our breeding program. An extensive commentary on Cigana III (MLC) and Quínio Interagro the sire of Xerxes can be found at the pedigree´s links below. Quínio Interagro - the sire of Beato Interagro, the price record of the 2010 Collection – has several outstanding sons exported to the U.S. The extraordinary pedigree of Xerxes Interagro – combining the most important Lusitano genealogies, and in particular, the genetic power of two of the most successful mares in the breed's history: his dam Cigana III (MLC) and grand-mare Cyclope (SA) - makes this young stallion one of its kind, a rarity not found anywhere else.
Interagro Dam's progeny:
1989 – Lidador do Mirante by Xairel (JIC)
1990 – Malagueta do Mirante by Emir II (MV)
1991 – Ninfa do Mirante by Apolo do Mirante – sold at 1999 Top Interagro Auction
1993 – Noblíssimo Interagro by Xique-Xique (CI)
1994 – Obtuso Interagro by Yacht (SA) – exported to the USA
1995 – Profano Interagro by Legendário do Mirante
1996 – Queen Interagro by Danúbio III (MV)
1997 – Rocinante Interagro by Distinto (MAC)
1998 – Sirigaita Interagro by Faraó (JHC)
2000 – Ultimato Interagro by Visqueiro (CI) – sold at The 2005 Lusitano Collection
2002 – Viriato Interagro by Nicola (MAC)
2004 – Aphrodite Interagro by Quixote Interagro
2006 – Cervantes Interagro by Quixote Interagro
2007 – Divina Interagro by Ofensor (MV)
2008 – Edelweiss Interagro by Ofensor (MV)
Trainer's Opinion by Heather Bender
Xerxes Interagro has been shown successfully in the competition ring in Brazil. He received a 65% in the riders' first ever 3rd level test. Xerxes Interagro is very talented in lateral work and collection and demonstrates super gaits and correct conformation. His gift for collection makes pirouettes and half steps quite easy. He is a sensitive horse that an experienced rider will find easy to make very light to the aids. His forward attitude is very appropriate for the FEI levels. While riding in the ring, Xerxes Interagro is naturally forward. With continued calm sensitive riding, he will be a king; confident, completely sensible and proud. He is not a horse that will do well with overriding. He will be the best match for a rider that is 'understated' and patient with the aids. Xerxes Interagro is a horse that develops a partnership with his rider: after work, his rider at Interagro could be seen riding him out to the paddock bareback for his turn out. Always a gentleman and a pleasure to be around, he loves the hack and is extremely good even when passing by pastures with mares and babies in them. Xerxes Interagro will be missed by all at Interagro Farms.
Click on the links at the pedigree below to know more about the ancestors
Xerxes Interagro´s Offspring
2008 - Dartagnan Interagro, grey colt out of Zidanta Interagro
2008 - Domaine Interagro, bay colt out of Xuesta Interagro
2008 - Esbelto Interagro, buckskin colt out of Zora Interagro
2008 - Estiatório Interagro, bay colt out of Noviça do Mirante
2008 - Eneias Interagro, grey colt out of Vistosa Interagro
2009 - Espadon Interagro, buckskin colt out of Ximena Interagro
2009 - Favorita Interagro, buckskin filly out of Zibelina Interagro
2009 - Furiel Interagro, bay colt out of Vega Interagro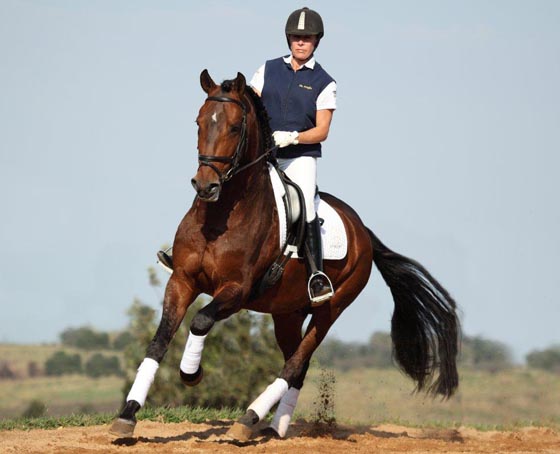 Photo: Tupa
Approved as Stallion by the ABPSL